deepundergroundpoetry.com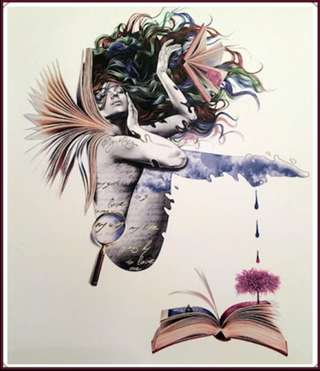 "U L T I M A T E P O E T E S S"
༺-~✶~-༻
        
✨ a salute to all our wonderful Lady-Poets ✨      
         
༺-~✶~-༻      
         
Her ink vibrates in universal amplitude,      
with such sure vibrant force pure ecstasies exude …      
releasing with each graceful sweep of every stroke,      
her words resound upon the page, as tho' they'd spoke.      
         
-~✶~-      
         
Her flowing mane, as ebon as the Stygian night,      
or golden as soft-textured braids, corn-silken bright.      
I've seen her auburn waves, as hot as Hades' fire;      
or, lustrous brunette strands, that spark ardent desire.      
         
-~✶~-      
         
Oh, passion's touch, awake unto life's fervent dreams,      
that evermore, desires and wantings merge as streams.      
From every heartsong pours her sweet elixir's voice,      
eternal rapture ~ captured … aye, you'll have no choice.      
         
-~✶~-      
         
The shape she takes, it may be lithe or slightly slim …      
might be, she's strong or stout; perhaps, just prim.      
She's every woman who has bravely shared her heart,      
learned how to charm us with her wonders from the start.      
         
-~✶~-      
         
Each smitten bard in every land and realm worldwide,      
has surely yearned to have her writing by his side …      
impressive with her graceful wisdom's keen surprise,      
indulge him with the magic in her spark'ling eyes,      
         
-~✶~-      
         
If Free Verse, Sonnet, Villanelle, or lovely Prose,      
it matters not what kind of poem she bestows;      
for, when she blends her heart and soul into her ink,      
it's hers you'll be ~ when she signs with a knowing wink*      
         
༺-~✶~-༻      
   

All writing remains the property of the author. Don't use it for any purpose without their permission.
likes

10

reading list entries

8
Commenting Preference:
The author encourages honest critique.