Content Warning : Do you want to continue?
This poem contains content which some readers may find disturbing.
It is unsuitable for children or anyone who is easily offended.
YES
I am over 18 years old, I have been warned and I still want to read this poem.
NO
I don't want to read this type of content, take me back to the previous page.
deepundergroundpoetry.com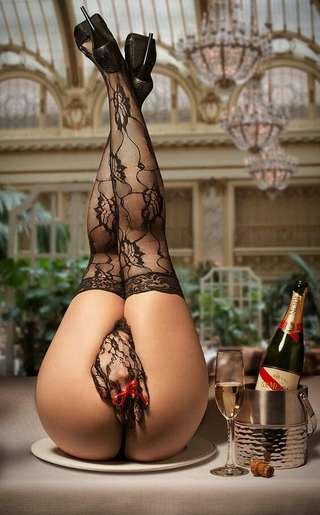 Lost In The Hard Thrust Of His Heat
Mm…so you want to slimmer in my silken juices  
While allowing me to elevate the rise of your temperature      
Bedazzling me to taste the essence of my inner soul      
Spreading me before the pleasure of your eyes  
Fingers from my lips your drag slowly down my body  
 
Over my Brazilian waxed mound, oh sweet mercy... a quick kiss      
Tasting the spices of my melanin all over your famished tongue  
My clit lips you sniff before you divide    
Dining off me as an appetizer for your carnal feast to seductively devour      
The lust of your palate refusing to be depraved  
      
Licking my sugary pinkish treat      
My coatings slowly melting in his mouth      
His tongue coated with the flavor of this sweet    
Two fingers in union easing in and out my kitty cat    
They dance in my dewy abyss, my essence he licks off like a snack      
      
The fountain of his posture      
Sprung forth, to seek and invade the cove of impending rapture        
My soft palm worshiping the width      
Teasing the rigid elongation        
Wanting, needing, to feel the pearly flow of his reckoning, stain my tongue      
He hungers for the seepage of my climatic rainfall  
His grunts falling prey to coveting his throbbing pulsation  
Drooling in the rush of my savory drippings      
Fulfilling his greed smoothly down my thraot      
        
Trails of kissing to the the dime head left in its wake      
I'm breathless in the aftermath  
My spine mating silk comfort of persuasion    
His robust thigh gapping my legs        
Overtaking my Chi in the sweetest submission      
Sinful pleads, once inside for the second coming of his deepening glory      
Palming the mattress wrapping my inner thighs around his virility  
My soft folds resting againt the sliding pleasure of his craving  
The silken creaminess awaiting the volcanic pearly flow of his lust      
 
Overlapping my hand for the alluring baptism      
Mm... slipping the master key deep inside me  
Oh God he feels good when deep inside, carousing his girth  
Colliding when I gyrate to tease, meeting his relentless strokes to appease  
Yes… yes... giving you all my breathless, my worth    
 
Turning, twisting, ankles pined behind my head  
Dominating me with wisps of carnal hunger, sliding back and forth  
Reaching down to my wet south  
Smearing my jucies all around his mouth  
Tongues hooking  
My scent to my lips heightening the pleasure  
Gripping the headboard  
His arousal sinking deeper and deeper all up in my wet treasure  
        
Unlocking the essential of my rooted cravings        
Kissed by the slicken entrance of ecstasy      
In the wakening of such gravitating force  
Slower baby, it feels so darn good when I'm misbehaving      
      
The dewiness of its accumulation        
Creating, peaking, seeping      
Bodies sinking, drowning in the cyclone of heated desires      
A beautiful wave of minds, endorphins blending  
His adrenaline pumping harder, my moans answering from the mending  
Yes... I am the seductress moth, between my thighs  
Tasting the wetness of my abyss, bathing in the sizzling fire of my moistness drips    
Plummeting, chiseling my inner passion in its current of ripening      
    
Our bodies merging into one another      
Drenched, sedated, panting in the reverberation      
Labored breaths of contentment echoed      
You know it's nothing like the feeling  
When being lost in the hard thrust of his heat
All writing remains the property of the author. Don't use it for any purpose without their permission.
likes

8

reading list entries

3
Commenting Preference:
The author is looking for friendly feedback.