deepundergroundpoetry.com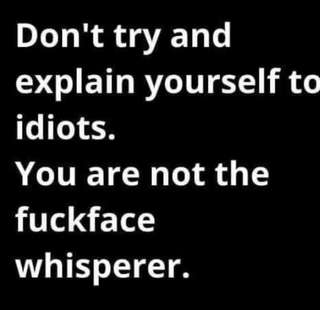 Adulting; the rise and fall of pretentious has beens, and will nots...
Adulting in a world full of preconceived notions within the context of egotistical personalities can be draining upon ones internal faculties, until the point of exhaustion; however, I'm resilient and well schooled in the psyche of those who scramble to steal your thunder whilst attempting to undermine anyone who challenges their comfortability & superiority.

Jealousy, is a curse if you fall short !

Noting, that the data rarely lies, and the social narrative remains deeply fractured when you have people in positions of authority who're somewhat authoring the destiny of vulnerable people.

People, who possess far greater aspirations than those that are oft dreamt up by a cohort of leaders who fail to lead change as they cradle their thinly veiled cynical & biased internal lens, which isn't entirely closeted when one opens their mouth to proffer nothing but thin air.
 
Astounding, even the most astute common denominators decipher what's unfolding whilst the body language and eyes across the room speak an unspoken dialogue; and you, dear sir/ madam have inadvertently flagged yourself as being resistant, not to mention incompetent across your portfolio and there's room for growth amongst those who need to retire, or at least consider an early retirement to save themselves from any further scrutiny.  

Collective impact is a foreign concept to many, however, the model is substantiated in terms of efficacy across demographics that require a more tailored approach to service delivery.

However, reframing the minds of those who're stuck in a cycle of maintaining the status quo requires some very targeted, frank & fearless dialogues to ensure the fence sitters are not being used as pawns by the die hard resistors to change.  
 
I don't care about your 30 year tenure in a role as that tells me you've had 30 years to master the art of your inept fuckery as you gloss over the finer details of previous failures without ever acknowledging that if something is broken, we fix it, without pointing fingers and laying blame.
 
There's a reason why I elevate people within my sphere to lead productive dialogues, and it's no secret why we're working through the legacy piece of previous generations, and their blatant incompetence, with the end point to improving the lives of those in society who require clarity on accessibility to pathways that will increase their earning capacity and participation in society whilst they shift from the generational poverty that's impeded upon their wellbeing, and capability to function.
 
I could lay blame somewhere but biting my tongue and navigating the dialogue in a different direction has enabled me to nurture people, when deep down, I wanna know what's wrong with them as their deficiencies are more than evident, when analysing the data sets.
 
Why are we, as a society, incapable of caring for those less fortunate & vulnerable !?
 
Poverty, is a trauma within itself and no one wants to acknowledge the psychological distress that comes with that, however, I'm not afraid to call a spade a spade and explore solutions that enable people to feel like life is worth living.
 
I abhor those people who say "money, isn't everything..." as money can provide the basic necessities when the basics aren't accessible.

There's nothing basic about accessing adequate shelter and food, particularly if those things are not within your grasp as the needs of people have been overlooked, for some decades.  
 
Systems change comes at a cost, however, an ever more significant cost if you're the recipient of inept policies designed by people who have no idea of the needs pertaining to the recipients in which the policy is designed for.

It makes no sense why we wouldn't reframe the response and position it within a neutral body who specialises in neutrality, purely for the sake of shifting the responsibility and enabling accountability to fall elsewhere.  
 
Sometimes, we need to hold hands with grown adults and lead them down another pathway to enable them to flourish and see the benefit of innovating as it's more palatable than me saying you're all fucked, and you're not doing your job as they'll gang up on me with their pitchforks to restore their bruised egos.  
 
What I will do is validate their efforts as a collective cohort of passionate people, and redirect the change management process to empower them to make a difference where it matters the most as creating pathways that trigger more trauma, isn't the answer.
 
The data tells us we need to strategise and manage the change accordingly, and the literature tells us that collective impact has far greater outcomes than working in a siloed approach. All the while, my anxiety is centred upon the next generation of leaders who need a stable foundation to launch themselves from.  
 
The challenge will be unveiled in the minutiae of the inertia of those who most resist as they're dead wood, and need to be challenged to enable them to grow into what we need them to be; leaders, agents of change, and disruptive innovators that are fearless.
 
When I speak to the innovators and agents of change in a room, who believe in challenging the status quo whilst remaining fluid to shift gracefully within their remit to attain the necessary change we need to enable the end users to feel as though their life matters, and that they're not a pawn in the games that corporate companies play to monopolise society with their class wars; we might just grow, and learn together.
 
Most days, I'm a loser but I'm winning by influencing those that are hungry to consume my intellect as I feed them snippets to empower them to make subtle change, without even triggering the anxiety that comes with those who're risk averse whilst elevating risk-mitigation strategies as a foundational touch point that enables those leaders to drive behavioural change amongst their operational staff.  
 
Sadly, I'm in a relationship with multidisciplinary professionals who're demonstrating sociopathic behaviours as they scramble towards cannibalising their peers without considering and truly understanding the true value of partnership by giving credit where due.

There is no me, without you, and vice versa.

Noting, there's a season for everything, and change management processes are oft seasonal as they run their cyclic courses. Depending upon the social conditioning and palate upon those in leadership roles, of course…
All writing remains the property of the author. Don't use it for any purpose without their permission.
likes

7

reading list entries

5
Commenting Preference:
The author encourages honest critique.