deepundergroundpoetry.com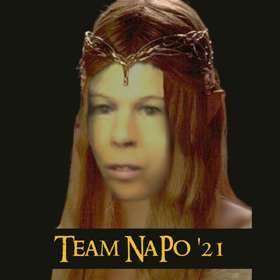 Visions: Into Light
To see is to hear, once heard it speaks;
a flight of fancy to find the meek
ones who hide from eyes that search
may all our foes we besmirch.

Into light we glide upon
wings unfurled; our will is strong
as the tree men rooted by dirt;
as the brethren found on earth.

Magic now, as it would seem
only hears of which we dream;
visions come to grace our eyes
as we look to ancient skies

Everywhere and spread upon
all we seek to emerge before long
To see is to know and learn so well;
Forever yours, PRaladriel


I) Orca World

I see a great and fearsome man
who once swam and now walks
yet has the same jagged teeth
and is of all mortals at the top.

His language remains wailing tones
though now on land as sea
and they have lived many ages ago
as fierce as its lore could be.

When on earth the oceans ruled
and bore great waters wide
the Orcas tail became a tool
that was as sure as his eyes.

The white wizard has created
a new breed to us be fated
and we must hide from its greed
as hungry a predator it will feed.

Beware, the Orcs are monstrous
to guard the treasure you seek
in mountain caves we'll find refuge
Oh, mirror, your waters are deep


II) Full Circle

Shimmeing disk into which I gaze
can you show me future ways
so that we may know what gifts
we are destined to be with

In stone orbs we see our lives
with each other we lock eyes
a palantir of polished stone
binds us to our brethren home

But these orbs are very rare
we must go to find them where
all that speaks to a wizard's fold
is not for everyone to behold

There will be one day a way
for all to unite in mutual play
as a virtual world of mind
merging with our lives in kind

It will be and come to pass
all we yearn for will be at last
whence I see a screen of square
cornered in a frame of glare


III) Legend Of Trees

Gnarled man shepard of dark
you've been alive since all was dark;
a lack of sun or moon to glow
wherein a mist gave room to grow.

The oldest yet, I see you there
within the deepest forest air
among the things you only care
to not destroy the lion's share.

But you are not the only one
so deeply aged and as strong
as the very ground upon
which you drag trailing fronds.

There are trees much older still
and their silence keeps them chilled
hiding from the harvesters cut
that want to use them all up.

In the pool I see them there
reaching toward the sunlight spare
Fangorn is the voice of them all
and they listen when he calls.

                ....




All writing remains the property of the author. Don't use it for any purpose without their permission.
likes

7

reading list entries

5
Commenting Preference:
The author is looking for friendly feedback.