Content Warning : Do you want to continue?
This poem contains content which some readers may find disturbing.
It is unsuitable for children or anyone who is easily offended.
YES
I am over 18 years old, I have been warned and I still want to read this poem.
NO
I don't want to read this type of content, take me back to the previous page.
deepundergroundpoetry.com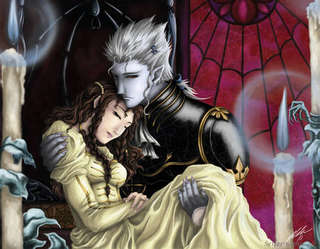 Az Almaim Sotat Vampirja
The carriage pulled up the gate
Off she stepped as a slight chill wrapped around her
"There is as evil about this place my Lady"
"I will be fine kind Sir so I bid you good night"
The carriage rode off in a hurry back toward the town

Stepping thru the door she could feel her lovers arms around her
"Good evening My Lady" as he gently kissed her neck
Taking her jacket the butler sped away
Turning to him as they were now in his bed chambers their hands
were all over each other as young lovers often do

How he had longed for, needed and wanted her
Life flowing through his body a feeling he had not had for centuries
Her lips tasted so sweet, her breasts so divine in his hand
Tracing her body her curves with his tongue
Her breasts he fondled in his mouth
Slightly biting her nipples grazing the flesh of her tits
His tongue lapping, his hands cupping squeezing them
Spreading her legs to finger her cunt, his tongue slipping inside
He had hungered for this in his thoughts his dreams
Piercing the flesh of her thighs as he nibbled and tasted her charm
She quivered and shook as she started to cum

Taking him and pinning him on the bed
Her mouth exploring his neck, his chest as she bit and nibbled on him
Stroking his cock hard in her hand, now hard in her mouth
Her nails scratching into him as her mouth wrapped tight around his cock
She had longed for him in her thoughts and her dreams
Riding his cock to exhaustion, her tongue licking his shaft
Her mouth tightened harder as he started to moan  
To drain him all night as he started to cum

Making him her slave, making her his slave
The violence of their passion, the screams of her moans
Healing her wounds with his blood as he tenderly caressed
Her bites and her wounds on him would heal and she would inflict more
Taking her from behind as the night air came thru the window
Thrusting harder and then slow to the sound of her breath..., moans
The sound of wolves somewhere in the distance
Hours of pleasure his cock would give her
Her cunt, her mouth always hungering for more

The daylight approaches as a carriage was prepared to take her home
Holding her close, looking into their eyes as they bid farewell
A night of exhaustion as their nights always were  
Soon he would make her his all, his queen, his companion
No more carriage to take her away
No more hunting and living the centuries alone    

All writing remains the property of the author. Don't use it for any purpose without their permission.
likes

3

reading list entries

3
Commenting Preference:
The author is looking for friendly feedback.