Content Warning : Do you want to continue?
This poem contains content which some readers may find disturbing.
It is unsuitable for children or anyone who is easily offended.
YES
I am over 18 years old, I have been warned and I still want to read this poem.
NO
I don't want to read this type of content, take me back to the previous page.
deepundergroundpoetry.com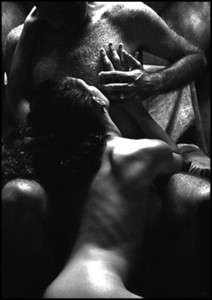 Mmm… Fifty Shades Of Gray (The Virility Of His Poetic Intellect Makes Me So Wet)
The thought to have this man's sexual desires locked deep inside me, on his knees, licking my cunt mm…just like that
For tonight I'm his sweet kitty… yes, letting him all up in this moistened snatch
You have been sniffing me from afar
Begging for my mouth and my pussy to take your mind past Jupiter and Mars  
 
Being your filthy little whore, your bedtime naughty lover My sweet pussy you've craved, and you can't get enough of my wetness under silken covers  
I demand you to slowly slide my gray lacey panties down my Creole thighs
You just had to put a finger inside
At…at..at… lick the satin inner crotch then smear my scent all around your lips
Now give me a kiss
 
Is it tight and right for you
Slicken and pinkish for you to sink in as I move
Leaning down, mouthing a breast when you easing in and out, go deeper, in and out in, holding my eyes while creaming your throbbing groove
 
I am Creole, Haitian, and French and I take comfort in the softness of my nudity
Indulge me with the arts, and nature's beauty
Intimately... yeah big daddy... making you moan when giving up the wet pussy and my tight booty
Yes... oh God, this is what your words do to me… sweet mercy… mentally touch me.. yes.. oh yes right there  
Pulling me to you... driving me insane when your palms roam over me everywhere
Laying me back on the carpet my legs extending
Back bending
Kissing over my toes, the tip of your girth parting my cunt, darting all up in it
 
Body weight laying on top of mine
My lips covet, moaning between your dipping grinds
Blending while anchoring, one leg in the air, kisses to my leg
Oh this feels like Heaven… your loving is better than brown, black, and red
Mm… who taught you this, damn you got some good shit
You have earned some head
Closing my eyes, not caring what I just said
Clenching me tighter you grunting first  
My pussy caving, gripping your arousal, moving, soaking up your squirts
 
Climaxing behind you without the wait
Yanking your erecting out, pumping the last drops of your pearly flow all over my face  
I'm your liaison, your preferred pussy, weakening me under your domination, blending our fate  
Threesomes, bondage... bring it, oh yes
Telling me the next time you want to see my pussy make an ice cube melt
 
After the shower and pleasing me again in the midnight hour
Buttocks cupped, then throwing my head back in bliss, legs wrapping around your neck
Surrendering sensation you instill once felt
Your tongue finding comfort in my mouth  
Holding my arms above my head, my nipples tenderly bit, flogged, you are definitely worth someone to brag about
 
He keeps me breathless when he's fucking my asshole from behind  
My scratches to his back, when he's thrusting deep inside my butter rum making him mine  
Me as his whore... he has me on speed dial  
Making him cum inside his wet dream, waking up with another hard on and a wicked smile
All writing remains the property of the author. Don't use it for any purpose without their permission.
likes

3

reading list entries

1
Commenting Preference:
The author is looking for friendly feedback.