deepundergroundpoetry.com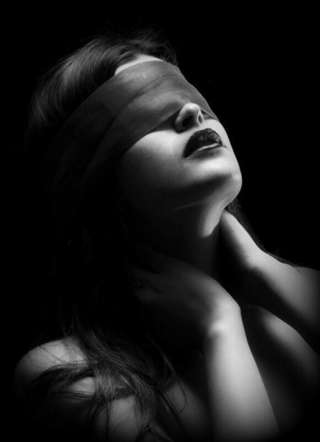 bond.
       
              
... He slowly circles, an Alpha stalking his prey, as thoughts plume...    
     
Mmm...the silkiness of her ebony hair,              
a heated look of cherished stare.                          
Flares of deep throated growls declare          
they permeate in a perfect warn of beware
charging pure, raw sexual, electrified air.        
O' those protruding marks of care,              
how I do brandish upon alabaster skin of fair  
'Tis just a prelude of what's next to share...  
   
Her thoughts, almost visceral.  
   
Darkness is my sanctuary,              
temple, tomb and cemetery.              
Blindness puts my mind at ease,              
touch and hear              
is how I see.              
Hand reached out with no permission,                  
groping, glorious whines ringing              
a symphony to Master's ears, as he doth listen.    
Fingertips brush across my face,                  
submissive sighs escape tart cherry lips              
so content in basking in this place.      
He whisper's perfect stern declarant      
commanding measure of my movement,        
my wetness glistens, so hungrily apparent      
I silently obey and show my torment      
       
"Total power exchange is about trust not abuse"    
     
"Please, Sir"              
escapes with heightened fervor,              
a throbbing ache travels              
all throughout her.              
Soon              
anticipation's anxiety attacks—              
smacks and cracks              
and cracks and smacks,                          
while behind the dark              
her eyes go mad.                          
With desire's lava              
beneath each sting,                          
the cat of nine tails,              
he surely makes it sing.              
Gentle lashes,              
she's on the edge of sin,                          
it's not pain that fuels her              
it's giving in.                      
Screaming out,              
begging for such sweet release                          
laughs of sugared torture              
edge her back in place.                          
Time ticks slowly,              
she spirals deep to sub space                          
Ohhh to revel in that sacred place              
All emotions, now are heightened,                          
knots in her belly,              
urges circle, tighten and tighten,              
Master pushes            
just how she desperately needs              
repeats of              
"I'm yours"              
"You own me"              
make him thoroughly pleased.              
A final command,              
spoken like a prayer                          
her orgasm rips a hole              
right through              
her gallant submissive soul              
             
Nothing              
will ever compare,                       
their unequivocal              
bond—              
             
Two, forever paired.                
             
             
             
             
             

All writing remains the property of the author. Don't use it for any purpose without their permission.
likes

16

reading list entries

8
Commenting Preference:
The author is looking for friendly feedback.