deepundergroundpoetry.com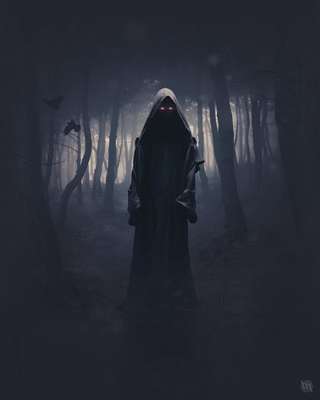 Path of Sorcery
- Path of Sorcery -

In ancient woodland and pine filled forest of olden eras past,
Unto this hour unchanged by the passing of many centuries...
There art places of uncanny energy, where spells longest last.
Therein hath I journeyed, when I partook of eldritch energies!
Marked and changed, from the hours I drew my first breath...
A witch, a warlock, from birth and so shall all my life remain.
Sorcery is in my blood, my spirit in ancient fires made rapt...
By sights that would rob lesser fools of sanity, blood to stain.

Occult secrets, divine knowledge, and other arcane mysteries,
Complex to some, to me art simplistic facets of great design...
Simple because though great they art but only smallest pieces.
The whole tapestry is grander by far, and in my sight sublime!
Child of man, if thou would learn the whole then come, walk...
At my side, though my journey is without an end as yet known.
Sit by me in the darkness and let me whisper, of secrets to talk,
Until in thine eyes, the glimmer of illumination is thus shown!

Shalt I tell thee of other worlds, of civilizations now long dust?
Or wouldst thou prefer to learn of the living spirit of the planet,
Which beats like a heart that only some may hear, and so trust!
I could tell thee the story behind every star, or a passing comet.
There is, in all things a life force that is part of a greater whole,
Linked by patterns one may discern if viewed by the inner eye.
And therein lies magic true, energies mighty will canst control!
So search of thy soul and do not the call of magic therein deny.

I was there when the Ancient Ones dwelt in the wildest places.
When mankind in infancy lived, slaves to those from on high...
We taught humanity much and tried to teach also of the graces.
Our virtues were lost of them, for noble truths they didst deny!
Wouldst thou learn a better way, and be by that means content?
Then of my words look deep, and drink the waters running fast.
Waste no time, lest time overtake thee and cause one to lament,
Not boarding the hidden vessel and sailing by its' strong masts.

I wouldst set thee free, and have thee know thy wings of glory,
That same I gave unto kings and prophets in times now ancient.
They used such gifts in vain, and oft dark was their full destiny,
So that in the hour of their passing they were broken and bent...
But not for thee, never for thee, such ignoble and foolish ends!
I say this plural, for there art many paths, and we walk but one.
One road with countless destinations, many curves and bends...
And much magic in store ere even the journey itself is so begun.
All writing remains the property of the author. Don't use it for any purpose without their permission.
likes

1

reading list entries

1
Commenting Preference:
The author encourages honest critique.