Content Warning : Do you want to continue?
This poem contains content which some readers may find disturbing.
It is unsuitable for children or anyone who is easily offended.
YES
I am over 18 years old, I have been warned and I still want to read this poem.
NO
I don't want to read this type of content, take me back to the previous page.
deepundergroundpoetry.com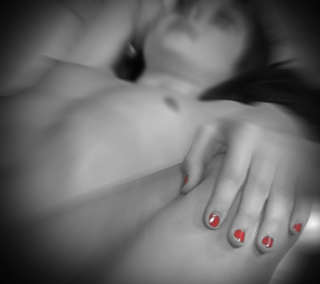 Viking Battle Revisited
When last we touched,                
our bodies pure with the sweetness of adolescence                      
crashed into one another seeking unmatched desires,                    
Hers for eternity; mine for the moment.                                
                     
I'm thirty-four now, and waiting for coffee                    
I smell awkwardness in the air                    
and feel the accidental touch of someone across time.                                  
She's behind me but recognizing.                                
                                  
I reminded her of my name to her halted laugh.                                    
She looked down, glancing across by body as her eyes fell.  
"That was so long ago," she said.                                    
Her eyes were still brown and clear.                                  
Skin smooth tan with twenty years of added sun.                                    
"I'm married now, mother of two. And you?"                                
                                  
I looked away and said, "It's just me,"                      
remembering her as the first of so many.                                  
She was the first conquest in my Viking battle for                      
desires fulfilled, often with collateral loss.                                  
                                  
Sitting alone, my mind swirled with the years of      
tangled bodies now unrecognizable.            
So many were vulnerable and I played the role of opportunist.              
Were they only flesh for our shared animal desires?              
I could not remember her body at all!                                    
                                  
Staring at my coffee with her seated a few tables away,            
my eyes burned with the salt of a distant sea of memory.          
Gradually, details began to form from that time.            
Her petite frame appeared wrapped in smooth tan skin  
that had a sparkling sheen.          
We were so naïve. We were so beautiful!                    
                   
I remembered that moment I first entered the warmth of her firm clinging center,    
pressing into her precious place where life might begin.      
In her pink fairly tale bedroom, decorated by excited parents      
before her birth, she frantically accepted the novice thrusting of my shaft,
holding me in the moist grip of her virgin treasure.                                
                   
Red nails, painted the night before by her mother,            
clawed and danced across my back as she whimpered softly.          
Could her mother have envisioned the next night      
while holding her daughter's hand?    
Could she have imagined those same fingers gripping my hardness?        
As her daughter laughed at the clumsily painted nails,    
could mom have foreseen those smiling lips      
wrapping me in pleasure only hours later?    
     
Her bedroom was silent as we performed our inevitable ancient ritual.    
Gradually, the sounds of rustling sheets and soft slaps of two bodies together grew.    
Hair, smelling of strawberry shampoo,    
unfurled on her pink princess pillow    
swaying to my rhythmic stabs.      
     
Over her spread body I spent my final thrust      
as galvanic cum cascaded into her syrupy depths.      
I rose up with arched back in rapture and read "Happily Ever After" over her bed.      
I stared at the words then fell back onto her young breasts      
giving one final push.      
     
I grasped at her body, pleading for this ecstasy to last,      
but was quickly soft inside of her heat.      
We were a pile of broken sweaty flesh.      
I looked into her face.      
Her eyes were red-wet from the injuries of our first and only battle.  
 
I took a sip of coffee and felt wetness in my eyes.                      
I could have been gentle, entering with curiosity,                    
amazed at the journey we were beginning together,                      
but adolescent boys aren't known for thoughtfulness.                                  
I could have placed my hand on her treasure, and left it there,                    
staking my claim on future expeditions into                      
that life giving cave of wonder, earning her trust.                              
                                  
Her coffee cup in hand, she walked past my table to leave.      
I stood to open the door and said softly, "I'm sorry."                                    
With a slight smile, she lowered her chin, "Me too."
All writing remains the property of the author. Don't use it for any purpose without their permission.
likes

1

reading list entries

0
Commenting Preference:
The author encourages honest critique.