deepundergroundpoetry.com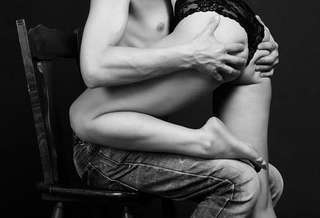 Chypre
His scent was like the fragrance of bottled adventure, fermented and crafted with time, vintage like whilst his elegance was stately, composed like an orchestrated symphony as I noted subtle signs of his masculinity whilst his prominence announced itself, and I dabbled in the depths of the unspoken but felt whilst inhaling the base notes of his essence, basking in the radiance of his playful aura as he tendered nothing but his raw authenticity & intelligence, and my lips squandered the opportunity as he beckoned me to come closer whilst strategically fingering the pattern etched upon my lace G.  
 
Draped upon his shades of apprehension, and I barely resisted his temptation whilst plunging into the depths of his oceanic tidal wave, swaying upon the premise of right & wrong whilst visions of his underlying current flashed before my eyes, and his alpha crown penetrated my vulnerability as I straddled his luminous frame when I should've knelt upon his alter, whilst gracing his hardened gorgeousness with my soft rosaceous glossy lips to savour the pulsating hardness of his algorithms, and the atmosphere was as ripe as my glistening shades of pastel.  
   
Blushed whilst impaled deeply between the root of his rock hard bordeaux as our breath merged, nestled in his monochromatic tone whilst feeling the beat of his heart pulsating in the depths of my corinthian rhodanthe as we blossomed upon one another like araujia, firmly twined upon the notion of healing moments as we derived pleasure from pain, and he used my flesh to liberate his senses as I tongue the head of his sandalwood infusions whilst tantalising & realigning his root chakra to mine.
   
Blended upon the axis of his incensed aromatics until he grips me tightly and leaves me splayed, stretched wide as he watched the way his notion drilled me whilst eliciting unimaginable filth to tumble from my lips to his ears, and fuck me harder is whispered ever so intently into his ears as we feed our insatiable hedonistic hunger to kill one another softly until we're cascading upon the drift associated with orgasmic bliss.  
   
Nourishing my need with his seed as I swallowed his pearls of wisdom, and I miss you lingers in the air whilst enabling cultivation to harvest his autumnal love notes, and I ache to feel the width & length of his swollen apetalous floret which crowns him king, and I miss the gape he left whilst turning right, actively tempering the impending fist of fury beyond breaking the seal, noting the gush that flowed as my body was harnessed to explore his inner landscapes, and enable us to heal the fractures that torment our waking hours.
All writing remains the property of the author. Don't use it for any purpose without their permission.
likes

6

reading list entries

3
Commenting Preference:
The author encourages honest critique.