deepundergroundpoetry.com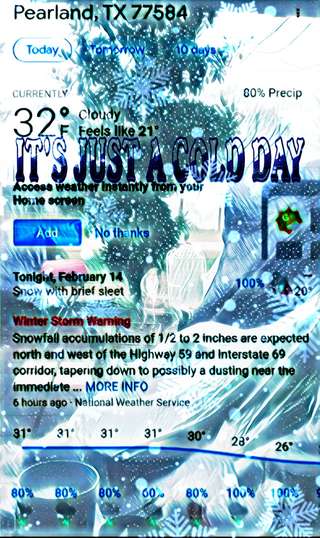 IT'S JUST A COLD DAY
Waking up to a day that's no different
Feels like just a simple Sunday
February is just so irrelevant
No words to inspire to express or say
"Only rain, ice, snow I hope cause no accident"
That I do pray"...

While the world seems to not care for today
The reason for what it is
Love that's showed by cupid's
All indoors all prefer to stay
Might be something we won't miss
For this weather breaks the mood in bits
Try 14 degrees will feel more like 4 easily...
Houston prepare it's arriving to wholly FREEZE!!

I have someone
but even so I still feel like the number one
I'm just on the other side of the android alone
With him there's not much talking on the phone
Waiting on him as I finish my all on the run
The entire day we barely talk or text
Before I know it the day is now all done
It's mimi time, time to rest.
"Only moths around me, damn pest"

It's just a cold day
I'm not trying to celebrate
I will not spill out the depressing names holiday
So keep that red away
You know exactly what I mean
Someone please change the day to green

It's just a cold day
Shivers my body complete
Blankets and covers warmth... I don't feel it
Arising to feel chilly from my head to my feet
Cause nothing else fills my way
But hey...
"St Patrick is soon coming!!!", " HOORAY!!!"...


All writing remains the property of the author. Don't use it for any purpose without their permission.
likes

2

reading list entries

0
Commenting Preference:
The author is looking for friendly feedback.