Content Warning : Do you want to continue?
This poem contains content which some readers may find disturbing.
It is unsuitable for children or anyone who is easily offended.
YES
I am over 18 years old, I have been warned and I still want to read this poem.
NO
I don't want to read this type of content, take me back to the previous page.
deepundergroundpoetry.com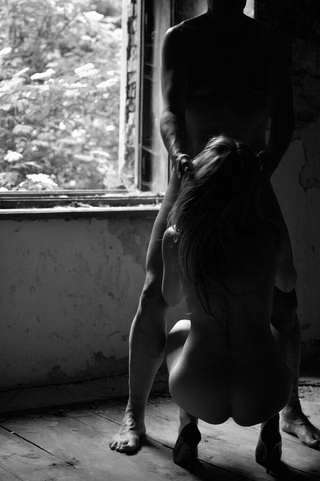 Celerity
Thereís nothing improper in the way you shed your skin, and transform yourself from the well balanced gentleman that most gaze upon, into a beast that violates me in ways that only lovers know, and itís the rawness of your gorgeous sex when its taut & hard that fascinates me, knowing we both derive pleasure in the way we fuck hard & deep, hours before ever making love, drowsily and tenderly.

The latter is a blessing but the hunger, passion and desire to feel you in the depths of me is what keeps me bound to you, and the way you grip me is as tight as the way my cunt grasps the width and length of all that remains unspoken but felt in the urgency of your thrust when you need to release any underlying pressure.
†
Drilling me deep, whilst making me taste the love we make in between the flow of changing positions as you watch the way my body serves your cock, and I canít help but deep throat your apparent desires whilst your hypnotic eyes speak to me in ways that make me cascade upon you as my not so innocent fuck me lips beg for more of you, in the depths of me. †
†
Immersed in the here & now, and the way you invade my confined spaces is borderline criminal as I temper your energy whilst listening to you monologue as I wonder how to drive you to the brink of orgasmic bliss, gliding upon my glistening, silky smooth, plush velvet holiness whilst you assert your authority, and plunge deeper into the undercurrent of my gushing flow. †
†
Eliciting pleasure whilst embracing the pain from the way you take whatís yours until my cunt swells, and starts to quiver whilst being stretched wide upon your diverse skill set as youíve developed a proclivity to trigger an avalanche of multiple earth shattering Oís as your tongue & fingers equally remain committed to such. †
†
The soul aches and pulsates whilst youíre buried deep within my whole being, penetrating me violently yet passionately, and I canít say no when you kiss me with a hunger that tastes like forever is etched upon your lips, ripened by time, emotion & devotion whilst serving your everyday needs as you pleasure me in ways that remain unspoken, but felt in the entirety of your swiftness to nourish me with your seed as I swallow every last drop.
All writing remains the property of the author. Don't use it for any purpose without their permission.
likes

4

reading list entries

0
Commenting Preference:
The author encourages honest critique.