Content Warning : Do you want to continue?
This poem contains content which some readers may find disturbing.
It is unsuitable for children or anyone who is easily offended.
YES
I am over 18 years old, I have been warned and I still want to read this poem.
NO
I don't want to read this type of content, take me back to the previous page.
deepundergroundpoetry.com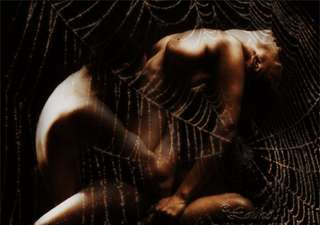 Mmm… Can I Softly Seduce You to Surrender To My Creamy Poetic Abyss
I think I have the softest 'poetic' addiction          
Scorching yearns, interlocking, my juiciest essence, dispensing                
When enticing words take the place of a hard dick or slow tongue licking                
Thinking about the taste of your hairy covered balls wallowing in my mouth                
Can you handle all this French Creole                
Once I give you a peek.. enticing you with my wanton dance... as my clothes drop to my feet.. you like what your eyes console                
                
Sss… you know you've been feening for the tight feeling inside this wet south                
My naughty honey dripping words penetrating like its your dick sliding in and out my mouth                
If you had a night with me to do as you please, to have me on my back, ass in the air, or on my knees                
And I let you tickle then sniff my soft folds, will you, for the tease, my curvaceous body yours to lease                
               
Will I get to feel your strong hands blindly roaming over my supple skin                
Pulling my panties down, kisses to the side of my my neck as a finger inside me impatiently darts in                
Yes, taste that creaminess and now slithering two back in again                
Mm.. I have the most desirable fantasy about you, when I have moved beyond words                
Drowning your resistance to me as you're dipping in and out my poetic sea, outlining my sultry curves                
Mm… you look like you can take my body past paradise and suspend my mind                
Once you've take off that trench coat, the world stops on our time                
 
I feel your whispers coating my skin, let me take advantage of your hidden wishes                
The reminisce of your manly touches you will remember after the first kisses                        
Deep in the jungle you stand                
Mm.. my handsome Superman… swing deep inside me with your vine, Tarzan                
Let me use you as I see fit                
My passion, my desires, my ecstasy... breezing over you once locked deep inside me, my wet pussy uplifting your dick                
It's just a matter of time, I get what, or should I say, who I want, you've been begging for your just due, so I'm only being upfront                
               
I crave what larks behind your pants zipper, can the gift stretch my dewy lust                
Tongue bond with me.. mmm.. you are so for me… shh… you must learn to trust and no rush                
Can I wrap my legs around your back… leaning downward my breast your tongue tenderly peck                
Back arched, mmm… placing the ice cube between your teeth… trailing the tip down my neck               
A cold sensation mouthing my tit                
Oh, sweet mercy, you are better than your words when you have me like this                            
You have my legs wide open, pussy hot for you in the virtual realm of time                
No hold bars… what's yours when you are pleasing me, becomes mine                
Clothed to the world, naked, my ass cupped, mm, groin to my pelvis, we wantonly grind                
Sweat honeyed drippings, your laboring breaths, relenting                
My body under yours, mattress denting                
               
Ice cube loving, bondage, let me sit all over your face                
Palming my hips… hammering my cunt down, your tongue slicing through my creamy pussy walls, surrendering to the seeping taste                
Unzip your pants, pull out your arousal, mmm… touch your dick for me now                
Close your eyes… hand pumping the length, yes, jacking it faster, the feeling I need when you're firm for me and endowed                
               
Yes, if you are reading this.. stroke yourself, yes just like that, your head thrown back                
You feel my tongue wandering over your balls, your ass hole licked, kissing all over your crack                
Cocooning the pleasure of lust once your natural rise
Getting addicted off the hard thrusts of your nightly surprise                                
In between my tits… sandwiching your dick, my lips faintly kissing the tip
You want this, I want you to remember me and this moment in time                
The next time, you will feel my wetness for only you through my poetic lines
All writing remains the property of the author. Don't use it for any purpose without their permission.
likes

6

reading list entries

2
Commenting Preference:
The author is looking for friendly feedback.