deepundergroundpoetry.com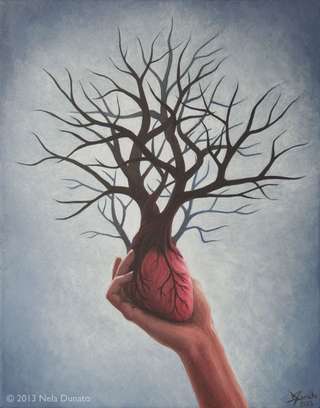 THE HEART IS LIKE THE TREE OF LIFE
Is it not true that it is possible that the heart is what, truly matters when it concerns matters of the heart and life ? For is it not true that it is possible that, a woman and a man is truly the foundation of the heart as they are yes join together as one. As her and him is exposing there true heart through there struggles, and adversities that has the deep richness of there hearts in mind, to withstand the weight of the world together. To even withstand the weight of the wind blowing, through the limbs of there out reach arms. That are fighting the blowing winds through there tree limbs, as they grow with out reach arms from the nurturing of there hearts, and souls and subconsciousness of there true meaning of being, a heart and a tree of life. For why do you think that when things seems impossible to grow, the heart is instructed to do what is necessary to go through the many rows of cracks. Planted within the soil that sometimes can't be repaired, as it only gets that much harder and worse to grew. Making the heart fight back that much harder with determination, and stronger focus mind to stand and fight regardless of all life's outcome. For that very same HEART AND TREE that grows from deep within, the depth of your own heart is the very existences of you. That true mere existence of your moments, spent within the subconsciousness and awareness of being a tree of life. For is to live is too have a heart or is it too live is to be alive ? As two individuals yet one in the same, AS A TREE OF LIFE WITH A HEART AND SOUL AND MIND. For one mind can not completely control the heart, if there is no self control of over your feelings and emotions unless you. Have one with the other for without them both to combine, on the same frequency and vibrations that only makes you merely brain dead as a tree with no life. Truly with no feelings nor emotions and thoughts, not even without the less bit of deepness of compassionate. Cause you can't feel the sunlight against the tips of your out reach branches, reaching towards the skies as the branches are your blood line to your HEART JUST LIKE THE TREE OF LIFE.
All writing remains the property of the author. Don't use it for any purpose without their permission.
likes

1

reading list entries

0
Commenting Preference:
The author encourages honest critique.