deepundergroundpoetry.com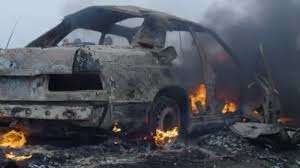 signature req'd
Yearsa go
I googled an old girlfriend
Some record pooped up,
A marriage license.
Oh well, I was glad enough.

A few months ago, I googled again
Sveltegina lives in Mayhapsville
Only 7 hours drive away.
No husband?
No kids?
I debated driving over
Knocking on her door
But after a few months
The raging internal debate
Subsided


I come home Monday a frenzied day
A FedEx sticker on the door
Signature required.
I wasn't expecting a package.

Tracking number says 0.2 Lb, 8x10x6...
First delivery attempted,10:00 AM
From Mayhapsville.

She must be reaching out.
I couldn't sleep
Was she dying?
She would only be 34 years old
Maybe she just wanted to send an Xmas
Card, wanted to make sure I got it.
We did, that last nite before I was shipped out overseas,
We did do it.
"You went in this time"
Maybe all these years
And I was a dad?

My anxiety melted into...
Wonder?
I call in sick.
Open my door at 8 AM
Looking out thru the glass screen door
Tracking says
Next delivery attempt
by the end of the day, Tuesday.
10AM comes, goes
Noon, I decide to fidgit around in the back yard
Dashing up front Everytime I heard anything that
Could possibly be a truck
Then the moment arrives
I sign my name

It is a court order to pay 18 years of child support.
I jump for joy
I thought I would go to my grave childless
God works in mysterious waves.

I locate her phone number,
give her a call.
After some friendly Goshes, and Ohmy's,
I arrange to go see her.
Just in case, I pack some lube and some
latex gloves, and a pack of condoms,
Oh, and my backpack
I kept from my Iraq tour days.
My special ops bag never leaves my side.


Sure enough, upon arrival,
one thing leads to another,
and she is pregnant once again.

Her 19 year old boy is a spiting image of me.
No need for a DNA confirmation test.

I wire the $150,000 to her lawyer
catch up with what my newly discovered son
has been up to , then head out for home,
as it is getting along toward evening.

Somewheres along my trip ,
I become aware that a car is following me.
I pull off at the next rest area
and scroll on in to a stall to take a large dump.
My video feeds from my Tesla cams to
my cell phone, as I watch my pursuer(s) casually
walk over to my car. One climbs into my
back seat. My audio feed kicks in.
The second person then is heading in to the men's bathroom,
so I book it out of there and slip into the janitor's door, then out the back door as I see the gentleman entering the men's bathroom.
Darting thru the shadows, I attach the magnet grip C4 explosive under
their vehicle.
Soon after, the gentleman hurries out, goes to my tesla, and waves the guy inside to come out, and they hoof it to their car, and race away. Letting them get on the highway,  I press the remote, and a couple seconds
later, sound waves carry the explosion, I already see a red plume from flames off above the treeline.

After getting in the back seat, I find what had been planted there, and chuck it into the recycling canister.

Sounds like its time to innocently  drive by the carnage, already a police car diverting all traffic to make a U turn. Must be a sign.  I check in to a motel,
and wait to visit my old friend in the morning.

Darned if that long lost girlfriend never changed.






All writing remains the property of the author. Don't use it for any purpose without their permission.
likes

2

reading list entries

0
Commenting Preference:
The author encourages honest critique.