Content Warning : Do you want to continue?
This poem contains content which some readers may find disturbing.
It is unsuitable for children or anyone who is easily offended.
YES
I am over 18 years old, I have been warned and I still want to read this poem.
NO
I don't want to read this type of content, take me back to the previous page.
deepundergroundpoetry.com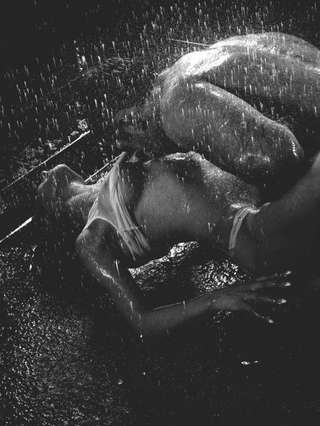 Mm... Steaming And Creaming
Wrists bound, braced against the shower tile
Only you know how to slip, dip on my rainbow slide
Bringing the blushes and the smiles
Breasts sandwiched, nipples simultaneously licked
Budded pleasure, moans behind the lashing tongue flicks
Gyrating my pussy hole on his solid pulsating dick

Palms clenching my ass
Eye to eye bodies refusing to concede
Hoping the passion, our desires will outlast
Heaven felt with a taste of blissful hell
Between my thighs, soft whimpers of ecstasy as his dick repeatedly inside me sails
Under the cloak of steam, mmm.. almost near climaxing.. shh... I will never tell
Tongue to tongue
Gloving his dick for my rewards as heís parlaying my creamy butter rum

Oh baby... my leg is slipping
Caught, knees now dipping
Bent leg resting over his creased elbow, French kissing
Dick nailing blindly inside my pussy, hard hitting
OhÖGod, Iím about ready to cum
Mm, how he loves me, I know weíre not done

Fuck me senselessly my handsome lover
Under the steamy cloak of waterfall, body to body, standing, no covers
Basking his girth in my Chi, bathing my wet center core
Soft whimpers as Iím pleading you to ravish my sunken treasure deeper, more

Cupping the back of my head
Mouth opening, dick darting into a deep throated bed
Pumping your girth, tongue twisting around the lengthy stance
Palm to his stomach, rubbing up and down for an awaiting pearly romance
Dick locked inside my mouth a seductive bobbling dance
Tasting his soul
His precum meeting my tongue as the tip farther patrols

FasterÖ and faster hand pumping
Pressing my head down, dick now thumbing
Release slowly seeping
Drool from out the corner of my mouth, weeping

Palms to his hard gluteus, his head thrown, dick peaking
Monstrous cum shot, dick not keeping
Mouth cleansing better than a towel
Swallowing every drop of him since itís allowed


All writing remains the property of the author. Don't use it for any purpose without their permission.
likes

5

reading list entries

2
Commenting Preference:
The author is looking for friendly feedback.