Content Warning : Do you want to continue?
This poem contains content which some readers may find disturbing.
It is unsuitable for children or anyone who is easily offended.
YES
I am over 18 years old, I have been warned and I still want to read this poem.
NO
I don't want to read this type of content, take me back to the previous page.
deepundergroundpoetry.com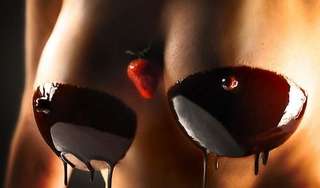 Tasting My Sweeten Passion
Mm... kiss me down my spine…umm covet me with blind passion
Tongue doing your bidding, worshipping my skin, slowly in grand fashion
Connected, vested, nakedness to mine as you look into my hungry eyes
Feel the erratic heartbeat between you and I
His erection has risen beyond deny

Arched back, palmed head, thighs clasping his face
His two fingers joining the narrow space
My sweeten essence coating his lips
Tongue bathing the tender lining of my wet pussy, bit by bit
"Oh baby…I'm...about ready to cum," his mouth greedily mouthing the silken creamy abyss

Deep and deeper, his tongue sinking, my cunt trickling and leaking
Desire and passion, on a sinful patrol
On his knees shoveling his elongation inside my pussy hole
Parading his throbbing girth in its harden form
Griping the headboard, dick digging, body thrills from the invasion worn

"Oh baby, fuck...mm… loving when he fucks me harder."
Reaping the benefits of imprisoning my brain
Covering my mouth, once realizing the neighbors already knows our names
Banging my pussy, drilling inside me even more
Waiting for the rain of my pussy to descend, gloving your dick galore

Laying on top of me, palming my ass
Oh God, he feels so good inside me when his dick bash
Inside me, blinding thrashing
Sweat droplets tasting my lips, reminisce rehashing

Taking control of my chin
Parting my lips as his hard-unfilled lust slides in
Making love to my mouth
Fingers, ramming inside the abyss of a wet butter rum south
Choking me, erection inching down my throat
My fingers drilling deeper, floating my own boat

His dick funneling a mouthful sensation, sticking it farther with all his might
In and out, his family jewels arrowing mm… it feels so right
Laws suckling, lips clamping the girth tight
Pulsating, a monstrous erection, pearly release, gliding smoothly down my throat, now buried out of sight

My body quivering behind the dominating tease, the ultimate please
Dick dashing back inside of me
Pussy compressing tighter, my essence quivering before the climatic ocean kisses the head of his dick, as it covets, and then flees
Licking the dripping chocolate from off my tits
Anchoring his soul deeper inside my creamy slit
Oh.. sweet mercy.. he knows I am all his

Clenching me tighter holding his body to mine
My back ached, our jucies fusing, bodies flowing like the sands of time
Please forgive me for being this weak
For enjoying the carnal pleasures of his body, fiending, yet still considered weakened by his needs

All writing remains the property of the author. Don't use it for any purpose without their permission.
likes

7

reading list entries

1

Commenting Preference:
The author is looking for friendly feedback.