Content Warning : Do you want to continue?
This poem contains content which some readers may find disturbing.
It is unsuitable for children or anyone who is easily offended.
YES
I am over 18 years old, I have been warned and I still want to read this poem.
NO
I don't want to read this type of content, take me back to the previous page.
deepundergroundpoetry.com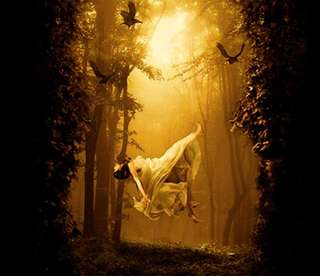 A Twist Of A Vampire's Fate XLI
Love Without Tragedy
INNISCORRIG CASTLE
Dublin, Ireland

Naynina twisted her head side-to-side. She heard echoes of voices. Words were rapidly blending among the whispering. Her skin felt clammy. Her eyes fluttered open and then fluttered close. She felt protected behind her veil of darkness.

"Boss, how long would she be out. We have several more men, who needs a taste of that Fairy blood."

"Naynina, needs her rest. She is total drained, therefore, she will be of no use to Dracon, if she decides to join forces with him. Her pure blood now runs through this clan, and her blood has been diluted with half of the Lasombra Clan."

"Boss, do you think it was a wise idea to have the clan turn into a wolf to feast off her blood."

"We will need all the man power to bring Dracon's army down, and power comes in strength."

Seneca's First Clansman looked over at the bed Naynina rested in.

"I feel the strength of two men. Dracon will go down this time around."

"Yes, a war I plan on winning."

"There is word circulating that some of Dracon's men were spotted around town. Something tells me, they are bringing the war to our turf."

"I wonder where the fuck you got that notion from! Dammit, they have brought the war to my doorstep!" Seneca palmed his cheek down. "Has anyone spotted Dracon as of yet."

"No Boss, and we have searched high and low, no one has caught a glimpse of Dracon."

"I know that fuck has something crooked up his sleeve." Seneca looked over at Naynina. "I do not want anyone to get near my future bride. If Dracon is man enough to come and claim my Naynina, then his ass will have to go through my army and then through me to get her."

"We are ready Boss; my men and I are only waiting for that fuck to name the time and the place."

"Dracon," Naynina mumbled out. She then spoke in a twisted tongue.

Seneca and his First Clansman suspended their conversation.

Both walked over to where Naynina was speaking in a language unbeknown to them.

"What the fuck is she saying."

Seneca's First Clansman looked over at Seneca.

"I have no idea, Boss."

Both men watched Naynina slowly push the covers down and rub over her breasts as she arched her back.

Naynina lifted her inner arm to her mouth and bit into her skin.

"What the fuck!"

Naynina suckled her blood and then placed her arm at her side. Her blood was draining at a steady rate.

Seneca realized the flow never made it to the silk sheet.

"Oh shit, grab her arms. Dracon is occupying her mind and her body."

Seneca ran to the side of the bed. He reached down for Naynina's arm.

An electric charge met his hand.

"Fuck."

Seneca snatched his hand back.

"Grab her other arm over there."

Seneca's First Clansman reached down to lift Naynina's other arm.

A sting penetrated his fingers.

"Fucking bitch."

He shook his hand.

"Boss, what's happening."

"How the fuck should I know."

Both men looked on as Naynina twisted her body seductively.

Seneca gritted his teeth in annoyance as he looked on; he was pissed he could not stop the progression, as Naynina's blood was being siphoned from some invisible entity.

"I need you to get on the horn and tell your men, there will be a slight change of plans. We will have to use Naynina after all."

"Boss, we do not need the assistance of a woman to fight our battles."

"And she will not; however, I need her presence on the front line. Once Dracon sees me dangling his prize possession, he will think twice about crossing me, at that moment. We kill him, and then his entire army."

"Now Boss, that is a stamp of approval me and my men can live with."

"Then make it happen."

'Boss, how about Naynina, and her blood for the rest of my men."

"Negative, just make sure those fuckers do not be on the front line. I do not have time for any weakness, not now, not ever."

Seneca's First Clansman tapped his fist to his chest, turned around, and headed for the door. He opened the door and walked out the bedroom. He pulled the door close.

Seneca looked down at Naynina's wrist. He looked up.

"You may do all that black magic hocus pocus bullshit, but Naynina will be mine in the end.

A mounted portrait of Naynina and Seneca dropped off the hook, and then fell forward, landing near the fireplace.

Seneca looked around his bedroom. He looked back down a Naynina; she was now sleeping on her side. He noticed her arm was peacefully positioned at her side. Seneca leaned down and kissed Naynina on her temple. He stroked her cheek with the back of his hand. Seneca realigned his posture and walked over to the door; he opened it and walked out his bedroom. He pulled the door close.

Copyright©SKC-2020


All writing remains the property of the author. Don't use it for any purpose without their permission.
likes

1

reading list entries

0
Commenting Preference:
The author is looking for friendly feedback.