Content Warning : Do you want to continue?
This poem contains content which some readers may find disturbing.
It is unsuitable for children or anyone who is easily offended.
YES
I am over 18 years old, I have been warned and I still want to read this poem.
NO
I don't want to read this type of content, take me back to the previous page.
deepundergroundpoetry.com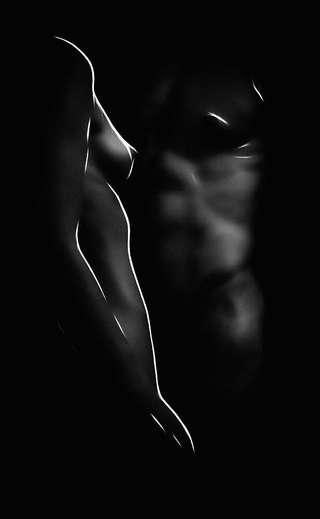 Mm.. Surrendering To The Bliss
Kisses long and wet, wine shared
Two naked souls bedded on silk sheets, paired
Divide the essence of fate, and lick upon destiny's sweetest measure
Kissing, teasing, the opening of my silken pleasure
Your tongue tantalizing my sunken treasure

Too alluring to ignore
Soft moans, tongue scaling, begging for more
Mouthing sweet flesh, moaning, tasting
Oh baby…yes…yes right there…don't keep the climax of my pussy waiting
Feasting greedily, hand on your head, urging your twisting head movements on
My pussy serenading your mouth with my seesawing song

Tongue snaking up my body kissing all over my gentle skin
Nipple wet inside your mouth, cupping your erection, our mating dance begins
Drowning your lust in the cove of my naked flesh
Hands joined, bodies gyrating, whispers, pleading as bodies softly mesh
Hard dick dipping, slipping, leading, setting my passion free
Creole thighs locking around his back, drawing him deeper into the core of me

Breathless, girth arrowing into promises of silken warmth
Hearts no man asunder, ecstasy reborn, yesterday's memories shredded, never to be torn
Pleasure principle of my womanhood, powerful, natural, addictive drawing you in
Clenching him tighter, kisses to my lips, my chin
Wet slit massaging his dick, kissing the tip of its head
Lust, desire, passion the only sheets covering my bed

Headboard gripped, sinking over and over again, a hard throbbing dick
Unmercifully pleasing my creamy slit
Pussy giving his dick the essence of my sweetest reward
Giving him more than he ever would deserve
Grunts, pearly flow release
Behind moans of a climatic please

Wondrous flow, delights slowly ebb
Soft rainfalls entangling, spinning into desire's web
His dick greedily devouring every morsel as my essence runs
Superseded by the stream of your pearly cum
A craving, decadence, greed he obsesses for
Locked in my core, thrusting even deeper, wanting more
My pussy siphoning from the fountain of his lust
Bodies once again blending, tug-of-war, shifting, as rapture enfolds, adjust
All writing remains the property of the author. Don't use it for any purpose without their permission.
likes

4

reading list entries

2
Commenting Preference:
The author is looking for friendly feedback.