deepundergroundpoetry.com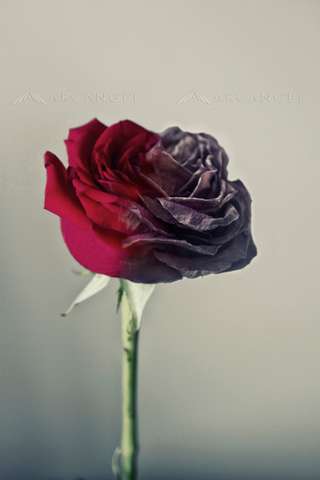 Premonition
Breathing carefully under the light of the moon, a man's whisper is as clear as day, "no one leaves alive". I realize someone is right behind me. The cold of slimy fingers can be felt threw my shirt, hovering above my right shoulder blade. I bolt to run. I can't seem to run fast enough. My body is sluggish and heavy, as if someone was pulling me backwards threw water. The world spins and I run, Ive come to a complete circle. I stop and turn around. I can see a woman ten feet away, her chest still and immobile. It should be rising. What is she I wonder? The bringer of death? No one knows but God. We stare confronting one another in a moment of silence. I take her in, her long wet hair, full of mud and leaves. She's half naked, except for a ripped red dress, exposing her breasts and ripped up the thigh. Some sort of Slime dripping in a silhouette with her back to the moon light. I can't see her face. She steps forward, I'm frozen in fear. Move legs! I send the command to which my body is unable to follow. She takes a second step so slowly while coughing, she can not speak but water pours from her mouth in the effort to do so. Unable to move my eyes take in her face as she comes closer. A smell hits my nose that smells of rot and decay. It is so strong, the moment it hit my nose was just enough to knock sense into my body to start reacting. I step back once. It is overwhelming. She comes closer still, slowly. Dripping. Inches away she stops, the light hits her just enough as the hair falls from her now bald head, past her face onto the soggy leaves below. The longer that I stand, the more I see of her detailed, inch by inch. I start to turn away, my lower torso without even trying. My gaze meeting hers, it hits me. The recognizable features. The hair at her feet, golden. Her chin, chiseled, an Adam's apple prominent, the feature most women would hate to have, just like me. Her high cheek bone structure can be made out in high lights even in the pale moonlight. Her short slender frame, just small enough to be all of 95 pounds soaking wet. It slowly dawns on me, as I am trying to break eye contact to move away, I know her. I am again frozen in fear. How? How is this true? I watch in horror as she finally releases all of the liquids of her bowels, the stench worsens. Now able to speak once more, "I am you and we are already dead" she shrieks in a high pitched broken tone. My tone, my voice. Broken but prominently me. The words hit me like a brick. Like some sort of dream I'm in, I can't escape. She screams at the top of her lungs, it is enough to knock my sense of paralysis away. I feel my feet inching, I finally move, I jump and fall, the ground turns to water. I am drowning, I feel sharp metal in my hand as a reach out. My throat, I taste blood, so much blood...

Mary bolts awake from her sleep gasping for air. It felt so real, she thought to herself. 'I'm just worried this weekends road trip will go badly. That's all.' She woke up, washed her face and took a shower to calm herself. She packed and readied herself for her trip. Pulled the brush through her long blond hair, 'I am glad to be alive' she thought to herself. 'Its just a dream, they don't come true. Its just a nightmare.' As she's packing, her Friend Dave arrives to join in on the preparations for this sure to be fun weekend to the lake. As he enters the threshold of her home, he hands her a beautiful metallic pink papered box with a shiny matching pink ribbon. As she opens the gift, his smile increases, cheek to cheek. She pulls back the rose gold tissue paper, pulling out a beautiful red dress with a slit up the thigh...
All writing remains the property of the author. Don't use it for any purpose without their permission.
likes

1

reading list entries

1
Commenting Preference:
The author is looking for friendly feedback.