Content Warning : Do you want to continue?
This poem contains content which some readers may find disturbing.
It is unsuitable for children or anyone who is easily offended.
YES
I am over 18 years old, I have been warned and I still want to read this poem.
NO
I don't want to read this type of content, take me back to the previous page.
deepundergroundpoetry.com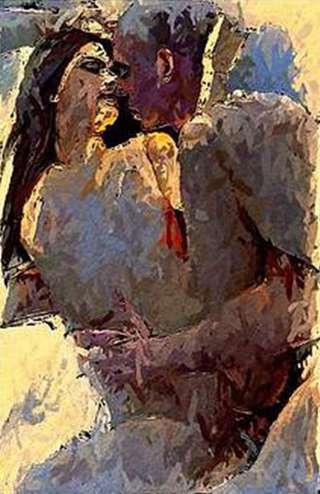 Paradise Reigns
As my favorite, poetess Maya Angelou say, I'm not cute or built to suit a fashion model's size
Through my alluring words, I'm just as sweet as a peach pie
My life, some would say universal widespread
Pleasures felt on my satin, cotton, or on silk covered beds

Shh…yes I am quietly bragging  
Cumming me down only when your wicked tongue is wagging  
Plummeting while sagging  
Ringing the tip side to side inside of me  
Mm.. do your thang handsome one and set my pussy juices free  
You lead, behind, I follow  
First cum first swallow  

The number radiates the moon circles by five  
You only need one wish once housed between my thighs  
Small kisses to my soft folds  
Mouthing your desires, licking it,  going deeper, seeking my pussy juices of gold  

Am I ashamed to admit any of this  
You tell me after your tongue has tantalized my clit
Mm… giving you my present as a nightly gift  
Then sap the juices from my soft slit  
Seduce my mind and body as you go  
Therefore, in my bed, pearly currents will continue to flow  

Your Head first, or stick my Tail  
Umm, I do like the way your family jewels persistently sails  
Sweet nothings moaned in my ear  
Oo, you so damn freaky my dear  

Tongue language ought to be bronzed  
Faster, deeper…mmm…just bring it on  
Pinnacle point has been reached  
Rainfalls of a pussy climatic flood, firewall security has been breached  
Dick basking  
Pumping, banging, rigid intentions way past asking  
Answer, delivered from a wet pussy cave in  
Clenched fingers under duress behind its carnal sin  
Reddish marks now branding my butter rum skin  

Pleased beyond imagination  
Dick still ramming from pussy appreciation  
No more deprivation from the starvation  
Okay handsome, you know what to do  
Not our first, or ever will be our last screw  

Turn me over  
And watch my hands tightly scrunch those satin covers  
The penetrating thrust to please my pussy, his dick steady piercing, his body hovering  
Surrendering the will of carnal gratification unto my handsome Adonis lover  
Moans and groans loudly heard  
Bodies attuned as they erotically merge  

Penetrating deeper inside of me  
Allowing once again my pussy juices to drift free  
Your ejaculation comforting the need  
How did erotic bliss become my passion, my love, my Karma Sutra greed  
Follow my lead, no questions asked, and just continue to fuck me  
Revelations in the lines from my mind to the powers that be  

Experience fulfillment from my mouth  
My tongue gliding down your manly physique, destination, heading south  
Holding an erected dick and now pointing north  
Eager opening to house a firm and lengthened choice  
Time to hear grunts from your deep baritone voice  

Pumping your girth, mouth bobbling, tongue serenading twin balls  
No applied rules to please of earthly laws  
Volcanic eruption as I'm popping you off  
Flames of desire coveting the curiosity of the Moth  

Down my throat a pearly flow smoothly goes  
Passion, desire, pleasure, my life's universal silken sheet codes  
Anything in between, if it feels good to me, my imagination to behold  
Whereas, limitless sexual preferences to pamper the complacent mode  

All writing remains the property of the author. Don't use it for any purpose without their permission.
likes

3

reading list entries

1
Commenting Preference:
The author is looking for friendly feedback.