Content Warning : Do you want to continue?
This poem contains content which some readers may find disturbing.
It is unsuitable for children or anyone who is easily offended.
YES
I am over 18 years old, I have been warned and I still want to read this poem.
NO
I don't want to read this type of content, take me back to the previous page.
deepundergroundpoetry.com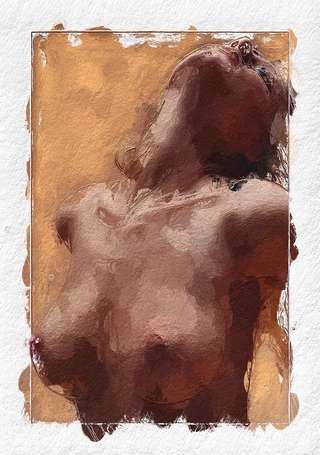 Moonlight's Temptation
SENATOR GRADISON'S WILDERWOOD MANSION
LONG ISLAND, NEW YORK

Isabella reached down for a long-stemmed glass of white wine from off the gold plated serving tray the hired house servant was hand circulating. Her footsteps took her deeper within the root of the Ballroom; she sipped graciously on her chilled white wine.

Isabella recognized a few familiar faces here and there. Her eyes noticed the crowd of the rich and elite.

These high powered-figured women of legal consent were immaculate dressed and flaunting themselves shamelessly around in their designer evening ball gowns. Many women within the elite were adorned with rare gems embedded in their earlobes and clasped snugly around their necks. These same women were staring and silently chastising her with their eyes.

"So much for the French Fashion," Isabella mumbled to herself.

Her eyes swept past many of the guests; she searched for Sherell's presence throughout for the sole purpose of informing her about her so-called, "market tester."

Isabella took into consideration several male admires with bland interest displaying in their eyes. Other men stared at her as if she were a conundrum to life's riddle.

Isabella was about to retreat to the powder room when her eyes fell upon the most discerning man she have ever seen, she blinked twice. Isabella wanted to turn away, but was paralyzed to act. She trained her eyes to stare a moment longer for the sake of memory.

The distance did not permit her to make out the man's facial features clearly due to the fact of his bowed head. Apparently, he was responding to something his companion at his side was saying.

What she could see at a great distance, from the individual who held her eyes hostage was his jet-black colored hair, which was tightly coiled and trimmed very close to his head.

A shag tapered off loosely at the nape of his neck; for the occasion, looped through a black thick band. The band blended perfectly with the color of his hair.

Isabella wondered how it would feel to run her fingers through the course of his mane, as she held his head at the gapping opening of her bare essence while intently urging his mouth with surging fingertips.

Like an unforeseen spirit of fate. The stranger lifted his head. Isabella found herself staring into the most compelling pair of dark-ebony colored eyes she has ever gazed into. Two pair of eyes remained suppressed in time. Isabella could not turn away.

Steffen applauded Isabella's womanly revealing features in an unchaste masculine interest.

Isabella nervously ran the tip of her tongue over her top lip. Steffen caught the movement and the hidden message. A quiet smile of future interaction appeared in his facial expression. He raised his glass of champagne to his lips in a silent toast, and to its roaming comforting creatures.

Steffen continued to assess Isabella from head to toe; he slightly nodded his head up and down.

The effect of Steffen's private salute left Isabella with a flustered feeling; she palliated by his male standards. His magnetic presence dominated the ballroom; she witnessed other women flirtatious undertones competing for his attention. Two females walked passed her and raised a question to the other, as to, who was the invited stranger.

Obvious to her dismay the stranger winked at her.

"Arrogant swine." Isabella lips formed.

The stranger continued too openly stare at her. He totally ignored his female companion at his side.

"Wow, you look sensational," someone voice from behind.

Isabella turned around; she did not hear Sherell and her date approach.

"Well so do you."

Isabella referred to the Vera Wang satin peach colored hip hugging ball gown Sherell was wearing.

"Why thank you mon cheri."

"Hello Isabella." Richard kissed both sides of Isabella cheeks. "You look different, but stunning."

"Hi Richard and thank you. You look pretty dapper yourself."

Isabella hinted at Richard's Bill Blass black tuxedo.

"Compliment accepted."

While they were standing around conversing among themselves. Sherell leaned over and whispered in Isabella's ear, "How is the dress coming along with the male population?"

"Take a look around this room. It appears every eligible man's eyes are strayed over in our direction, and I do not think they are staring at your date."

"Okay, I get the point," Sherell said, laughing.

"Sherell who is the man standing over there?"

"Which one? There are several men here tonight."

"Look over my left shoulder. He's the man wearing the black tuxedo standing with the woman in the black gown."

"I have the foggiest idea mon cheri, but I must say he's very handsome," whispered Sherell.

"And you have never seen him before?"

"Never in this lifetime Isabella, but if it's any consolation to you. He has been glancing over here at every opportunity."

"You're kidding!"

"Turn around and see for yourself."

"No, it would be too obvious."

"By all means, suit yourself."

"Come on Sherell, let's dance."

"I thought you would never ask."

Richard grabbed a hold of Sherell's hand.

Richard and Sherell interjected themselves within the assembled couples on the dance floor.

Several men began to ask Isabella to dance; she obliged some and refused others.

Isabella knew she had to restrict her dancing to maybe one or two more. She was becoming fatigue with the fact, the men were using the limited time to feel and discreetly massage the bare skin of her exposed back.

Isabella refused the next dance; she stood alone with another glass of white wine in her hand listening to the live band play a romantic ballad.

She finished the last contents of her drink; she placed the empty glass on the serving tray the hired help was holding out in front of her.

Isabella began to relax and take pleasure in her surroundings. Without any food in her stomach since brunch, the effect of the white wine left her frenzy, bold, and frolic. A few minutes later, an older man asked Isabella to accompany him on the dance floor.

"Why yes, Senator Channing." Senator Channing engulfed Isabella's form.

While on the dance floor with the senator. Isabella had the distinctive feeling; her actions were under surveillance. Her dance companion twirled her around the Ballroom.

Simultaneously, Isabella's eyes briefly made contact with the man whose mere presence now governed her feverish thoughts. Why must he look at me like that she pondered? Isabella silently alluded at the allusive expression he wore on his face. She continued being swirled around the Ballroom. The next time she glanced over in the stranger's direction. He was engrossed in a conversation with Senator Gradison.

"May I cut in," a deep voice interrupted.

"Certainly," responded Senator Channing.

Senator Channing stepped back.

Isabelle walked into Devin's arms. Devin linked his arms around her wasit and pulled her person into his embrace.

"Devin Gradison, whenever did you get back in town?" Isabella questioned with excitement.

"If I was to know I will be welcomed with such fire in your eyes, then maybe I shall leave town more often."

Both laughed in union.

"You look absolutely sumptuous, but then again you always do."

"Thank you Devin."

Isabella liked Devin. He was the eldest son of Senator Robert Gradison and Mrs. Francis Edith Gradison. His personage placed him in her company of worthy associates. Devin was witty, vigorous, and an honest and hardworking Manhattan city council member. He was handsome in a quiet sort of way and his age was several years her junior. Only when conversing with him did one notice his intelligence far exceeded his chronological age of thirty-five. He would make a woman a good husband, and if elected, an honest Congressional Representative.

"It has been a long time since we've gotten together."

"Yes I know Devin. Business has kept me from socializing, and traveling has kept you abroad."

"We must remedy that soon," Devin whispered in her ear.

"I agree. How about next week?" Isabella volunteered without hesitation.

"Great. I'm sure I can extract my presence from public office for an evening out with a very beautiful woman."

"By the way, how is the election going?"

"Strictly off the record. It's going to be a very close election."

"I'm quite sure Devin you would get elected."

"A woman after my own heart."

Isabella knew how Devin felt about her. Inadvertently, she did not reciprocate such feelings for him. She liked him as a true friend. Although, she never declined any of his invitations for a public outing, and that was only because he was to kind to her to disdain him.

"Isabella, please correct me if I'm wrong."

"Yes Devin, what is it?"

"I recall the last time we spoke privately. You were not seeing anyone special. Has your dating status changed?"

"No Devin," Isabella sighed. "Unfortunately it's presently the same."

Devin matted Isabella's soft womanly to his robust physique. The closeness was causing a blessed effect to his manhood.

Devin liked Isabella. She had charisma, brains, and bestowed with a complimentary beauty. Something some of the women in his past lacked. In the near future, when he decides it's time for him to settle down, and plant some roots. He would certainly call upon her to be more than just friends, if at that time she isn't already married. The thought made Devin tremble with remorse.

Devin looked over Isabella's shoulder. He kept noticing how the man with the dark probing eyes, who was half listening to what his father Senator Gradison was discussing, continued to affirm their immediate whereabouts, or should he say Isabella's.

The man's companion obvious was engaging her presence elsewhere. Could he be enamored with Isabella?

Judging from the play of emotions the man's face betrayed. Devin did not need to affirm the answer. His scrutiny was of a man who is used to manipulating others to his advantage or will.

Devin kissed the side of Isabella's temple and embraced her more securely. She is too important to him to let some obdurately playboy lay his hands upon her. If he even thinks without question Isabella prefers his type, then he cannot differentiate good parental breeding from no class. In actuality that may be the sort of women, he is accustomed. Well to bad, Devin's mind finished. She would be the one who got away.

After reading the message in the other's man eyes, Devin felt self-assured he had accepted a challenge; the winner never longing for anyone with beauty, elegance, and sensuality, and the loser, a defeating battle to the mind of what could have been. Devin never in his adult life refrained from a challenge, especially if it's contending for Isabella's affection.

"Devin," Isabella called out.

Devin disengaged himself from his selfish wondering thoughts.

"I'm sorry Isabella, what were you saying?"

"Where have you been? You have not responded to a word I've said. Now tell me what is so important to occupy your mind, is it the campaign?"

Devin looked down into Isabella's eyes.

"You are so beautiful Isabella until it scares me sometimes." Devin kissed her lips, surprising her. He inched his face back. "I was thinking if you decide to become my bride in the future what would our heirs look like."

Isabella began to laugh. Until she realized she was the only one.

"Thank you Devin. Believe me I did not mean to appear rude. You just happen to catch me off guard that's all."

Isabella smiled up at Devin in a seductive way. Devin's eyes were incomprehensive, which deemed Isabella to remain dancing with him in silence. The music ended.

Devin stepped back.

"Can I get you something to drink?"

"No I'm fine. Please Devin do not let me detain you. It appears there are many other women here tonight vying for your attention as well."

Devin glanced around the Ballroom; he took into consideration the stock of women giving him the eye. Devin smiled to himself.

"I will not be the one to interfere with destiny."

"You're too kind Isabella."

Devin kissed Isabella on the lips. "I would like to see you after the conclusion of this fundraiser. Therefore, don't leave beforehand."

"I won't."

Devin kissed Isabella on the lips again and stroked her cheek. He strolled across the dance floor to the ardent females.

The band began playing another slow ballad based on a woman's lost love. To escape from being asked to dance again. Isabella headed in the direction of the buffet table to accommodate her parched throat with something cool and refreshing to drink. Nevertheless, before she made it to her destination. The stranger approached her. His startling movements blocked her forwarding progress.

"We have time for this dance before the selection of the tempo changes," he stated in the most caressing manner.

Steffen finally reached his main goal tonight of holding the woman in his arms who he knew he could exchange sex with the right price. From this point on, he would privately reserve her time for him. He already knew her asking price would be high. He already convinced himself he would pay dearly for her illicit services for the entire night.

Isabella noticed at a distance that the stranger did not appear to be so tall. She had to angle her head back to look up at him. He stood several inches above her five feet six inches. His eyes had an arresting front upon close encounter; they were very hypnotic and produced a trance state appeal when not on guard.

This man, who recklessly sequestered her presence, tuxedo, outlined a powered muscular physique. His upper clothed torso was wide underlying great-unforeseen strength.

Isabella witnessed, whereas other men she have become acquainted with, mouth was non-comparison. His was so fruitful, sinful; a rich olive skin-tone complexion with a gaunt jawbone structure, which was strong, appeared to have been chiseled in place. A beacon nose highlighted his aristocratic Italian heritage; his overall appearance gave him his stamp to be marked, virile and very handsome.

"Well shall we?"

Steffen extended his hand out to Isabella.

"Yes by all means," replied Isabella.

Her waist was drawn into strong arms. She titled her head back, only to find her eyes on level with his collarbone.

"Put your arms around my neck." Isabella obeyed the request instantly.

"I like the way you fit within my arms tonight, you are made for only me."

Steffen fanned Isabella's cheeks with his lips; he stabilized his lips inches from hers. The impromptu heated gesture manifested a tinkling sensation rotating down her spine.

Steffen glided his palms over the lower half of Isabella's back; his fingers spiraled up her back. The action on his behalf made Isabella softly whimper out in ecstasy.

"Your dress love feels good against your skin." Steffen kissed one of Isabella's shoulder blades. "Ever since I saw you from across the room. I've been wondering what else about you I can inspire to touch, better yet feel," Steffen whispered in Isabella's ear, he nipped at one of her earlobes.

Isabella knew she should put an immediate dismissal to such suggestive behavior and simply talk, but for the life of her. She could not bring herself to utter the words she desperately wanted to say. She could not deny herself this temporary insane pleasure.

Isabella was pleased the lights were dim. She did not want anyone to witness the erotic foreplay between the two while on the dance floor. Lost in the creation of time, Isabella's feet missed a beat.

Steffen's immediate response was to steady her, he draw her closer, closer than most.

Isabella closed her eyes and rested her head on Steffen's massive chest wall; she mentally incarcerated her surroundings in a majestic illusion.

She could not begin to comprehend the blissful emotion she was experiencing. She did not want it to end; she needed this feeling to last forever.

The two swayed to the music, attuned to each other physically.

Steffen kissed the side of Isabella's neck.

"Umm," Isabella moaned, she inched her head back and looked up into his eyes.

Steffen looked down into Isabella's eyes; he slowly lessened the space with his face. He slowly kissed her.

Isabella found her tongue inside Steffen's mouth.

Steffen prayed to himself that his wallet contained enough currency for her private services. He inched his face back and looked down into her eyes.

"I want you." Steffen kissed Isabella on her forehead.

Isabella inched her face back and opened her eyes.

"You taste so good," Steffen whispered against Isabella's cheek. He pulled her closer. His manhood strained against his pants. Maybe he can reserve her private services for his traveling excursion. He assumed sex and games was the only lingo American women understood.

Steffen finally broke the silence.

"Vieni a casa con me il mio amore."

Isabella could not interpret the meaning; she only had only a twelve-grade understanding of the Italian dialect. She could not even make an accurate guess as to what he conveyed. She now wished she were more attentive in her foreign language studies at St. Mary Academic Preparatory School for girls.

"My name is Isa-…."

Before Isabella had the chance to complete her sentence, Steffen spoke in English with more aggression.

"Come home with me my love. I promise you, you will not regret it. I want to experience the things my heart tells my mind is forbidden," he whispered in Isabella's ear.

The sensation of the unity was enough to give Isabella an ultimate excuse to yield and obey. Unfortunately, her super ego surfaced.

"Please," Steffen whispered in her ear again, he lapped at one of her earlobes. "Since you are the sole perpetrator in my inadvertent provocation. I would certainly like to imagine you would be the person to address its basic desires. I can be a very generous mon when it comes to compensation." Steffen's palms caressed Isabella's back.

Alarm bells echoed in Isabella's head, she placed inches between them.

"I beg your pardon!"

Steffen remained holding Isabella by the small of her back he nuzzled her neck. "Say, a thousand dollars for the entire night. I can go higher if that's not enough."

With all the dignity her foggy brain could muster, Isabella lashed out. "How dare you assume such elusive behavioral of me."

"Isn't that the message you've been throwing at me all evening?"

"It is most certainly not!" Isabella's voice became louder by the minute. People were beginning to stare over in their direction.

The slow ballad the band was playing drowned out the intensity of their verbal exchange.

Isabella tried to disengage her person from Steffen's embrace.

Steffen's deed was to imprison her small waist tighter.

"Unhand me this instant," Isabella hissed through compressed teeth.

Steffen's superciliousness took charge. His thighs physically guided Isabella's lower body movements through the slow ballad. His body for the first time in an extended period uncontrollably sought to reach a physical release he refuse to brave alone. Steffen revised his line of question to suit the required purpose; he gazed down into Isabella's eyes.

"My love you are truly a desirable womon and I am a healthy mon. What better circumstances call for such an intimate request?"

"You are deranged," Isabella remarked.

"Maledizione, five thousand dollars?"

Isabella's pride was injured; she wanted to smack the larking self-assured appearance from off Steffen's face. She stared up into a pair of dark mysterious eyes. For a fleeting moment, she almost surrendered to his risky proposal.

"I've had enough dancing for tonight."

Isabella abruptly broke free from Steffen's detainment. She treaded her way through the crowd of remaining dancing couples. She surveyed her surroundings to make sure the stranger was not following her; she realized she needed a breath of fresh air her morality needed rendered.

Isabella headed in the direction to inform Sherell and Richard of her whereabouts. She tried to locate them on the dance floor, but to her avail was unsuccessful. Isabella quickly made her way to the French glassed double-doors that led out onto a terrace.

A nocturnal tranquility welcomed Isabella's quiet escape. She paced back and forth, she felt somewhat guilty and irritated at the same time.

"Ooh, how dare he make such an unfounded assumption of me?"

The dissatisfaction in her voice carried away by the still of the night. She stopped in mid-tracks and bent her head down.

"It's the dress. Yes that's the reason," Isabella reasoned with herself.

She began to think of a way to escape the fundraiser without causing any further embarrassment to her presence. Preoccupied with her thoughts, she did not hear the faint footsteps approaching from behind.

"Could this be the second opportunity, to continue where the other one was declined?" A voice stated from behind.

Even before Isabella turned around to respond, she instinctively knew the self-assured voice belonged to the stranger with the compelling ebony-colored eyes.

Isabella turned around to confront Steffen; she was not prepared for the amusement of finding him looming over him.

"My fleeing was not done to entertain your ego's purpose; I can warrant you of that."

"Accetta le mie scuse Signorina."

"Pardon me signore?"

"Please accept my apologies Signorina."

Isabella discerned the stranger's pronunciation was of a man who has been well educated in the English dialect.

"It is not a wise practice for you to have pursued me out here. I'm alone, and your manners in regards to women are in poor taste, please leave."

"My name is Steffen."

He clasped Isabella's hand in his, raised it to his lips, and then kissed the base of her knuckles in a gallantly manner; he turned her hand over and kissed her inner palm.

Isabella snatched her hand away and stepped back. She continued to feel the plundering effect of his introductory endearment. She declared her space and inched back.

Steffen self-authorized himself to move in closer, too close. It furnished Isabella an excuse to escape his attendance. She turned and slowly walked the length of the terrace.

With each gaping step she took, she ran her palm alongside one of the cool white stone pillar supporting beams. She settled herself in place at the far end of the cemented terrace. She resisted the urge not to enter up into the white picketed gazebo.

Neatly maintained rows of aged pink and white foliage, weeping willow trees, and flowering Almond trees, with soldering green hedges secluded its occupants in total privacy. A green lush landscape immersed the two in silence.

The sole illuminating light assisted by an irradiated soft bathing glow was from the high-stationed full moon. A celestial blanket of stars glistened in the mystic dark blue sky above.

Isabella continued to view the lovely scenery surrounding her in quietude.

Steffen walked up silently behind her. Isabella sensed Steffen's proximity; she remained rooted where she stood.

"What a magnificent view wouldn't you agree?" Isabella referred in general to the professional treated green manicured vast lawn and structuring gardening landscape.

A maze of assorted bed of flowers to enliven your optical senses, stood alongside a stretched paved red cobblestone pathway, which led out and beyond into the night.

A releasing odorous aroma sailed throughout the night. Isabella's nostrils captured the scent in the air. Responsible for the aromatic was huge potted bouquets of delicately scented Desmond Carnations and Star Gazer Lillie's.

Statues of granite Greek Goddesses stood throughout the perimeters of the terrace. Each statue nickel-plated engraved plaque told of its rich history.

Steffen glanced over Isabella's physique.

"I most definitely agree with the signorina. Its sleeping beauty lies dormant to be cultivated and physically stimulated with the proper overpowering engineering."

Isabella believed the impression of Steffen's words went beyond the scope of the scenery.

Steffen glided his forefinger down the contour of Isabella's bare arm; he encircled her body from behind. He pulled her back against his solid chest wall. Steffen nuzzled his face in the crook of Isabella's neck. He inhaled the essence of her person.

"You smell good enough to physically consume."

Steffen playfully nibbled on Isabella's neck.

A piece by Mozart began to play in the distance background. The sultry music flooded onto the terrace, the intensity of the mood embraced the two.

Isabella felt giddy, explorative, but alarmed. She was unsure of the unexpected.

Steffen slowly turned Isabella around in his arms.

Both stared at each other for what seemed like eternity.

Steffen noticed the perfection of Isabella's inimitable features. He took in her small mouth, full lips made for kissing among things, and a small nose. Her eyes were the color of a precious rare stone glittering in the summer sun that curved upward at the boarders. Steffen's gaze returned to Isabella's mouth. He moved his hungry eyes downward to the rhythmically rise and fall of her meagerly clad breasts.

The profile of two enticing taut peaks provocatively strained against the flimsy material of her dress.

"You intrigue me; I have never encountered anyone like you before."

Steffen's eyes absorbed Isabella's physique once again.

"Do you always concoct lies to women you pursue onto secluded terraces?"

"Yes, but only the truth to a beautiful donna with the eyes the color of a collectable gemstone." Steffen stroked the side of Isabella's face.

"Is that so?" Isabella stated with an innocent dare in her voice.

"Then again, I've always been led to believe that a challenged phrase have to be brought into action, if it is to be documented as a positive truth. Maybe this second response would convince you otherwise."

Isabella did not have time to sift through the meaning of Steffen's statement. Steffen placed a finger under Isabella's chin to angle her lips for his taking. The kiss was light, teasing, and done in a swift motion. A kiss that left her senses underfed for more.

Steffen ran his thumb over Isabella's lips that were slightly swollen from the assault of his unexpected kiss. What a treat he stumbled upon tonight, and just to imagine he almost declined the invitation. Until one of his financial advisors suggested, his appearance would be a good public relation move. In addition, profitable if he met the right people. With regret, in order to attend this affair. He personally rescheduled all his business meetings fate is good he thought.

"I've had enough air," Isabella muttered breathless. "I should be returning to the Ballroom."

Isabella excused herself from Steffen's hovering presence. She made a hasty move to step around him.

Steffen's arm snaked itself around Isabella's slim waist, he enfolded her body up against the expansiveness of his chest.

"No signore," Isabella cried out in alarm, not because she was afraid, but because she recognized her common sense of good judgment began to desert her. The physical attraction her yearning body could no longer deny left her emotional vulnerable. "No!"

Steffen's mouth covered Isabella's with a force. Isabella's mouth remained neutral. Steffen felt Isabella's resistance to him; he clasped her face between his strong hands in a gentle restraint. Isabella's eyes remained downcast.

"Look up at me."

Isabella lifted guileless eyes up to Steffen. What was the matter with her? She knew how to respond to a man's touch. Nevertheless, something about the way she responded to this person was different, erotic.

"Open up to me do not be afraid. I could never come to hurt you, I promise," Steffen assured Isabella in a voice of the brink of arousal. He began to feather light kisses on her forehead, nose, cheeks, and then his devouring lips found hers again.

Steffen kissed Isabella's sparse parted moistened lips, passionately. His tongue made a dampen track around the shape of her small mouth and full lips. He made its lewd purpose known.

The heady fragrance of his expensive toilet water that mingled pleasantly with his body's natural refreshing chemistry seemed to heighten her innocent curiosity.

Isabella implicitly moaned out, giving Steffen the green light.

Steffen's tongue rapidly darted inside Isabella's mouth. He kissed her with an urgency that bespoke promises of what's to come later.

Isabella's arms softened up, she self-willed the need to want to cling back into his embrace. Her arms crept around his neck. She kissed him back with the same thirst she knew only he could quench.

Steffen moved his lips across Isabella's heated flesh; he nibbled her skin and dragged his tongue over her cheek. "I know you were the one for me, the moment I set eyes on you."

With both hands, Steffen cupped Isabella's firm bottom. He grinded her pelvis up against his groin. A call of unfulfilled desire pierced the heart of his soul. Steffen stopped long enough to gaze down into Isabella's eyes; he placed her palm over his pounding heart.

"Senti quello che mi stai facendo il mio amore."

Steffen did not relinquish the immediate release of Isabella's hand. He repeated himself more blatant in English.

"Feel what you are doing to me my love."

At the time, hers was beating like a caged nervous Hen ready to be slaughter. He was making her accept a feeling she did not fully understand.

Steffen fondled Isabella's breasts through the top bodice of her dress. He rained kisses down the hollowness of her arched throat. His mighty hands roved obsessively over her willing body.

Isabella captured Steffen's hand. She placed one his fingers inside her mouth and began to suck on it. She looked him in the eyes.

"I will give you anything that you ask for," Steffen groaned.

Isabella felt Steffen's manhood. He held his palm over her hand. He moved his groin against her palm.

"Kiss me Steffen."

Steffen held Isabella by the back of her head and kissed her, he inched back.

He sought to lie bare her full breasts and claim them for his own. He impatiently slipped his hands through the scooped opening of her dress to reveal her breasts to his festive eyes.

"Bellissimo," Steffen testified without shame.

He smothered the weight of both breasts within each hand. He bowed his head downward, and encircled his mouth over one light-brownish nipple; he suckled the peak, and then licked around the other.

Isabella surrendered to the splendid rapture. She engraved her salon manicured nails into Steffen's back. She cheered on his performance.

Steffen trapped the back of Isabella's thighs to his groin.

"Come with me."

Steffen stepped back, grabbed Isabella's hand, and rushed them to the far end of the terrace. He walked out into the darken landscape. He entered into the white gazebo.

Steffen sat Isabella down on the white stone settee. He kneeled down on his knees, lifted her legs up, and placed them over his head. Steffen kissed Isabella's inner thigh, he smelled Isabella's womanhood through her thong. He moved it aside and inserted his tongue inside her vaginal orifice.

"Oh God," Isabella muttered. She placed her palms on the sides of Steffen's head and arched her back. "Steffen, this..."

Steffen began suckling on Isabella's virginal extended soft skin. He lifted her dress farther, and licked over her inverted navel. He pulled her thong down to her upper thighs.

Isabella lifted her buttocks.

Steffen pulled Isabella's thong down her legs; he placed the garment in the side pocket of his tuxedo jacket. He bent his head downward and kissed over her fine downy hairs. He arrowed his tongue inside her womanhood.

"Oh..."

Isabella grabbed onto the back of the stone settte and rocked her pelvis against Steffen's face.

Steffen cupped Isabella's buttocks and pulled her pussy into his face. He wiggled his tongue inside, suckled her clitoris, and then inched his face back.

"Leave with me. My residence is not far from here." Steffen kissed Isabella's inner thigh. "I want to enter you so bad."

Steffen stood. He unzipped his pants and dug into the open flap of his pants, he took out his erect manhood. Steffen took Isabella's hand and placed it over his swollen member.

Isabella cupped Steffen's manhood and gently squeezed it. She had to put an end to the stimulating madness this stranger was provoking in her before things escalated beyond her control. Having a clear understanding with a pocketful of regrets. When Steffen least expected it, Isabella pushed at his upper thighs and stood.

"I can't do this, this is not right."

Isabella at best, tried to recover with true modest, she recoiled a step.

"What's the matter? Was there something I did the beautiful signora do not improve of?" Steffen implored in a low-pitched voice.

Isabella assumed Steffen was fully aroused from the deep indication in his panting dialect.

Steffen searched Isabella's eyes; he captured them for selective memory.

"I am so sorry signore, I cannot continue this." Isabella touched her hair prior to fixing her dress to its appropriate state. "My indiscretions have caused me enough shame."

Isabella turned around to walk away.

Steffen's mind was not fully aligned with his body's physical predestined calling.

"Tell me lady!" Do you get some kind of kick teasing mon, getting them fucking aroused, and then casting them aside like they're not worthy of having you?"

Isabella stopped in her tracks and turned back around. She remained speechless; she self-consciously tried to gather the scoped neckline of her dress together.

"That is your assumption of this scenario."

"What did you expect to happen when you entice a mon? A willing one I must add?"

"Certainly not what you had in mind," Isabella spat out!"

Steffen grabbed both of Isabella's upper arms, and hurled her to him. Steffen kissed Isabella rudely on the mouth in a cruel manner. At least that's what it started out as. He kissed her everywhere; his hands blindly touched her all over. "Please come home with me."

Isabella hugged Steffen to her, she kissed his lips; she held onto him by his tuxedo jacket. She inched back and kissed his chin.

Damn he smelled so good she thought.

"I… Steffen."

Steffen caved Isabella's speech with his mouth.

Isabella held onto Steffen by his waist. She pulled him closer to her and returned his kiss. Steffen's hand found the clasp of Isabella's dress. He unclasped it from behind.

The top portion of Isabella's dress tumbled down.

Steffen inched back and held a breast in each palm. He swooped his head down and trapped a nipple inside his mouth; he licked over the fatten tip.

Isabella kissed the side of Steffen's temple.

Steffen picked Isabella up. He scooted back and sat down on the white stone settee.

Isabella adjusted her straddled body on Steffen's lap.

Steffen held Isabella by the sides of her cheeks and pulled her face into his. He slowly kissed her on the mouth, he inched his face back. "I want to make love to you right here."

"I..., I can't do this." Isabella rose off Steffen's lap and stepped back.

Steffen reached out for her.

Isabella pushed his hand away.

"This is over."

Steffen stood and pulled Isabella into his arms, he held her held immobile and kissed her on the mouth. Isabella palmed Steffen's palms. She slowly inched her face back.

"I said I can't do this."

"Do you want the money up front?" Steffen's hand went to his back pants pocket.

"I said no. I have to go."

Steffen gripped Isabella by her upper arm.

"The next time you try your seducing wiles on a mon, practice first on a boy."

He released her unceremoniously.

Steffen hid his own bewilderment. He could not fathom the concept how he became physically submissive with a sensuous signorina with haughty insinuating emerald colored eyes. He regarded the way she stared him down as if she never indulged in unplanned forbidden passion.

"Why, you arrogant and conceited scoundrel!" Isabella shrieked.

She lifted her hand to slap his face. Isabella cried out in dismay when Steffen caught her by the wrist before the blow hit its mark.

"In the future, do not dress the part; if you wish not to partake in the final act, you are nothing but a fucking tease." Steffen looked down at Isabella in repulse. He let her wrist go, zipped his pants, and descended the steps.

Isabella rubbed her wrist, she could still feel Steffen's angered imprint on her delicate skin. She began to silently weep.

Copyright©SKC-2020

All writing remains the property of the author. Don't use it for any purpose without their permission.
likes

1

reading list entries

0
Commenting Preference:
The author is looking for friendly feedback.