deepundergroundpoetry.com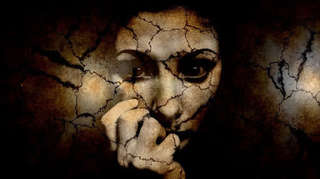 NO LONGER ARE YOU
They say when you go through something's that we never thought we needed to learn from life, it comes with an even higher price of lessons, that we must learn to navigate through along with the hurt along with the suffering. For it is through the passing of time which is constantly, and theology changing within us recreating the depth of the darkness that sometimes, controls our true emotions and feelings and subconsciousness. For even though you may think that it is  only scratching at the surface of your subconsciousness, it is  merely taking you deeper into the bottomless pit of hell were night demons roam through the darkness unknown. Where darkness awaits for you behind the scenes, preying upon your very flesh and blood waiting with eyes as black as coal and cold as a winter night. For it doesn't stop there as it has gone to the point of view that, when you look into the mirror reflection of thyself you no longer recognize, the person you use to be as you no longer exist through your own eyes of silence. For even as the whispers of the winds caress your skin sending subliminal messages, rushing through the stairways and gateways of your subconsciousness. Slowly mixing with the tears that falls from your eyes followed by the hurt and pain. Yet it is those tears stains upon your face reflecting on the silent memories, that constantly reminds you of the mere depth of the distrust and disloyalty and betrayal and dishonesty. Fuel by the darkness that swirls and forces you to truly understand, the many faces of the darkness that creeps through your mind. As the many faces of broken shattered pieces of glass slowly begins, cutting you deeper opening up old scars that seem to never really heal with each encounter of the many faces. That has lied and manipulated you into becoming, a prisoner of your own subconsciousness of your own mind. Destroying the best part of you as a woman leaving behind inescapable thoughts, that sometimes creeps into your night dreams leaving you feeling, even more alone and abandon and afraid and unworthy, as you are  living behind an mask that is tormenting your own spiritual soul.    
All writing remains the property of the author. Don't use it for any purpose without their permission.
likes

5

reading list entries

3
Commenting Preference:
The author encourages honest critique.