Content Warning : Do you want to continue?
This poem contains content which some readers may find disturbing.
It is unsuitable for children or anyone who is easily offended.
YES
I am over 18 years old, I have been warned and I still want to read this poem.
NO
I don't want to read this type of content, take me back to the previous page.
deepundergroundpoetry.com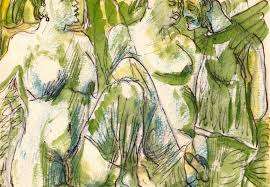 Our Sexy Flights part 15
Our Sexy Flights part 15

Half expecting to feel a replacement cock in my soaking slit I was pleasantly surprised to feel a tongue instead. It drove deep into me a few times before I felt the guy sucking at my slit as he feasted on the juices inside me. My juices and his comrade's juices and maybe even his own were sucked from me just as another load of cum splattered over my tits from above. I was a mess. But I was enraptured with what was happening to me.

Again I turned to look at Adele to check if she was ok, but again my view was partially obstructed by naked men kneeling beside her or standing over her. I could hear her screams and I knew they were screams of pleasure so I turned my head back again just as another cock erupted over my face and hair.

The guy between my legs was still sucking and licking away at my cunt when a tribesman stood astride me and knelt down on my stomach so as to slide his huge cock between my firm tits. I lifted my hands and pushed my breasts together so as to clamp his cock tightly between them as he started to move his hips and fuck my tits. I stared down at the red, bulbous head of the cock as it appeared, and then disappeared, before reappearing to point a few inches from my chin.

Faster and faster he fucked my tits as I held them tight together and prepared myself for the eruption that would send even more, hot cum towards my face. An Arab was now stood astride my head and as I looked up briefly above me I could see his ass and balls as he gripped his cock tightly while he jerked himself off.

If he carried on the way he was going it would be his comrades head that got splattered but he suddenly dropped his hand from his cock before kneeling down at the top of my head and; gripping his cock tightly again he suddenly erupted over my head and onto my face just as the cock that was fucking my tits spurted its hot cum out from the tiny hole in the head to join the load that was hitting my face from behind.

It was then that I felt the many pairs of hands lift me to my feet while a very tall Arab lay on his back on the cushions that I had just vacated. His cock was rigid in front of him as it pointed towards the top of the tent. I knew immediately what was required of me and slid my legs over his body and slowly knelt down just above his cock. His hands reached up and grasped my tits and he began to mold them together as if he was kneading bread. Very carefully I lowered myself until I felt the tip of his cock enter my wetness.

I held it there for a moment to torment him before letting myself drop fully onto the huge, stiff dick that spread my cunt wide as it entered me. And then I rode him. Like he rode his desert stallions I rode him. Up and down I bounced with joy as he continued to mold my tits together in his huge hands.

Faster and faster my hips jerked up and down as I rode that lovely cock inside my cunt.

Suddenly another man stood astride the body of the man I was so eagerly fucking and his cock slipped into my mouth as his hands went around the back of my head to pull it forward and into his groin. I gasped as the cock fucked hard into my mouth and the cock beneath me started to quiver inside me just that second before it erupted hot globules of cum into my pounding cunt. I kept going as I milked his cock into me; at the same time having my mouth fucked deeper and harder until that too shot inside me.

I felt my pussy being filled with sperm as I slowly eased down my pace until the cock inside me went limp. Obviously more of the tribesmen wanted to try this position and I was lifted off the cock beneath me while another took its place. Again I sank my hips down and my wet pussy was again filled with throbbing cock as I began to ride it.

Again a cock entered my mouth just as another man knelt beside me and wrapped his mouth around one of my nipples while he pinched and pulled at the other. Again I came as I picked up the pace of my fucking and again I felt the hot sperm from the cock in my mouth flood into me. Again my cunt was filled with hot sperm as the cock I was riding ejaculated deep inside me.

I climbed from my 'ride' to allow another to take his place and I sank my hips down onto him just as I felt two pairs of hands on my shoulders. Gently they eased me forward and down so that my face was inches from the face of the guy I was about to ride. For an instant I thought they wanted us to kiss; but then I felt a pair of hands on my buttocks and felt some knees press against me and suddenly realized that one of them intended to fuck me in the ass. However he held back for a moment as he leant forward and whispered to me.

Yes?

I hesitated, just a fraction before turning my head slightly to reply.

YES. Yes go for it.

I braced myself for the thrust into my tight ass, made even tighter by the large, stiff cock still inside my cunt, and not knowing how big the cock at the entrance to my ass was. Thankfully it was an average size, smaller than some cocks that had felt the delights of my tight ass hole and also he slid it in slowly rather than just ram it in.

Judging by the ease the cock slid into me I felt sure he had lubricated himself first and I delighted in the thoughtfulness of him.

Slowly he pressed forward until I felt my ass opening to receive him and the pleasure of having a cock in my ass as well as in my cunt was thrilling. Bent over as I was I found it difficult to ride the cock in my pussy but the guy beneath me suddenly began to thrust his hips up and down and sent his weapon reaming into me as the cock in my ass began to pick up speed. Before long both cocks were ramming hard and deep into me and I began to scream with shear, pleasure.

My scream was halted however as my head was suddenly turned to the side and another cock entered my mouth. And that was it.

I was gone. With mind blowing ecstasy I was having my mouth fucked, my cunt fucked and my ass fucked. I'm sure if they had been big enough someone would have tried to fuck my ears.

I came.

Cocks rammed into my three holes over and over again, pushing, thrusting, pounding me into heights that I had rarely reached before as I took every thrust with erotic pleasure.

I came again.

The men fucking into me were moaning loudly, especially the ones in my tight ass and pussy. I knew that they could feel each other's cocks as they almost touched head to head through the thin membrane that only just separated them deeper and harder and faster. In and out they drove into me. The cock in my mouth suddenly spurted its load and filled my throat with more hot sperm.

Still Cumming it withdrew and finished by splattering my face just as another cock took its place in my mouth. I felt globules of cum splatter over my back from a guy that had been jerking himself off beside me. I felt the cock in my ass suddenly stiffen slightly before it, too, spurted hot sperm into me. Wave after wave hit the depths of my ass just as the dick in my pussy also erupted to fill my hole with more cum.

For a few moments I was left with all of my holes empty as I was lifted off of the cock in my slit and the cock in my ass was pulled free. Another man lay down on the cushions but this time, instead of lowering my pussy onto his erect cock, I knelt down between his open legs and wrapped my mouth around his huge shaft. He groaned loudly as I took his cock deep into my throat and began what was probably the best blow job he ever had in his life.

As expected I soon felt hands on my ass cheeks as another Bedouin positioned himself behind me. The thrust, when it came, was sudden and forceful and I screamed with pain onto the cock in my mouth. I heard a shout behind me and the cock in my ass suddenly pulled out. I let the dick slide from my lips as I looked around to see what was happening. A big, hefty looking Arab was being led, naked, from the tent by two of his comrades and I realized that they were forcing him out because he had been rough and hurt me. I smiled to myself as I again bent over and slid the cock, back into my mouth as another pair of hands gripped my ass cheeks and another cock slid, slowly this time, into the depths of me.

Over and over again I was taken in this position, sometimes with cock in my pussy and my mouth, other times with just cock in my mouth as well as the thrusting, rampant cocks that were plummeting, the depths of my small, tight ass.

Eventually the tent began to empty as the number of the Bedouin tribesmen began to decrease. At the end I was again on my back with men fucking my soaking wet slit and my now aching mouth until there were just two left attending to me and two fucking the last drops of energy out of Adele. I had seen little of her since the start of the gang bang as she had been surrounded by rampant men, as had I been, and I had also been paying a lot of attention to the many, many cocks that had fucked into me in one hole or another.

To be continued
All writing remains the property of the author. Don't use it for any purpose without their permission.
likes

1

reading list entries

0
Commenting Preference:
The author is looking for friendly feedback.