deepundergroundpoetry.com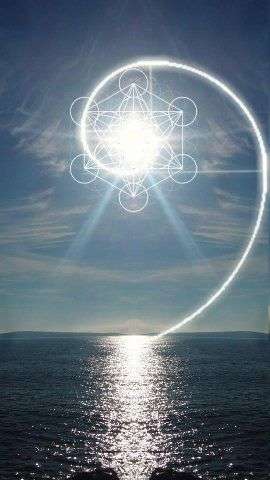 Metatron
Sphere, fill the emptiness,  
emptiness, defined by sphere      
inside's being outside, hence      
you measure it through surfaces      
      
Vesica Piscis! Symmetry!  
Incision's straight line, circle is above      
so the force mine rather ternary    
is launching on it's path, now GO!      
     
the endless twists      
they end in an equator      
creation's models in a bliss      
are actuated in a generator.      
     
the innermost point inside the circle      
contains the grain of Po; the vortex is itself;      
a light-driven Voice vibrates, a whirlpool      
the Shores of Heaven protects, or, life's Well.      
     
a degree of three hundred, sixty, dot      
when it departs as to the completion      
the pergel delineates the plate, and it ought      
define Deus Ex Machina's perfection.      
     
and all directions lead      
to the middle's core, its heart      
shapes the X, so deep      
the Trinity's been trinitized; play harp!      
     
(...) to be continued      
     
a sphere so void with God momentum    
towards octahedron ~ air blows      
a corridor for creation's all convulsions      
protractor for the angles nobly thus composed      
     
the First Hand and a base      
draws the perfect circuit      
and a Creational neuron of Mind State      
torus Intensifies in a centrifugal pursuit      
     
in the fibonacci helix run, oh, you,      
approximation mathematically asymptotic,      
the paradox of Non-existence true      
you overcome with divisions so hypnotic.      
     
with the curves of a shell so round      
inside of which the square's essence      
creates, secondly, an egg, its sound,      
then fruit of life, so effervescent.      
     
the one true form of Elohim      
uncompleted circles on the edges      
they get enclosed as to encode so firm      
the secrecy of God So mystical, it pledges!      
     
The Cube gives birth to transcendence      
it emanates the resonance of Mother Craft      
in dimensions and one's personal contents      
the forms mosaic assort on lit shafts.      
     
Here comes He: Metatron.      
A guardian and such a father.      
AlltheNothing is a Home      
He'll protect through knowledge gathered.      
     
Utterance and Light's Intent      
synesthesia became in wisdom      
and unseparated they downwards went      
white, as waterfall's refracted prisms.      
     
Directing magical force of the hair      
in descent so profound he bore depth      
of the spiritual that in the Eastern air      
we felt in songs of ancient breath.      
     
The exoticism of jungle pyramids humid      
and the force in his mantle so alchemic      
with a staff and stones he's a druid      
a Sovereign of Cosmic Law divinely strategic.      
     
(to be continued...)      
     
He shall observe so concentrated      
our mission so eternally humane      
with His Spirit Godly and Untainted      
the Christic Unified Cell of Our Plane.      
     
That we suppressed in our women      
the cube's dodecahedron there, right, on top      
in the centre it rotates and brimming      
our fates inside develop; so they trumpet, throb      
     
so happy - that they are alive!      
     
Immortality, oh, what are you...?      
     
The meaning, hidden in the Ark device      
Don't you dare, Metatron, divulge!      
     
Don't you ever tell me secrets!      
     
I do love you, always yours! '      
     
The mystery does sway, oh hide it, bleakness,      
     
and I shall never interrupt its choir!    
     
****    
This is my translation of my poem Metatron written originally in Bulgarian language, my native tongue.
All writing remains the property of the author. Don't use it for any purpose without their permission.
likes

3

reading list entries

2
Commenting Preference:
The author encourages honest critique.