deepundergroundpoetry.com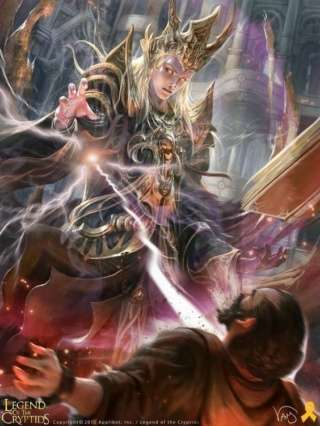 Lucifer's Ray
"You! My daughter you shall bear"
determined tone has echoed firm;
"My love is growing as a gem so fair"
"Pure creation, cosmic sperm"

Backwaters swaying under the horizon
washing base of pyramids Immense
on top corrupted King that dies in
impurity when peculiar odours commence;

"Finally, I see the top!"
My Ray, for eons, pierces victorious, to last;
The Flame of my sword does never crop;
The summit does, Purified, blast!

I now know that Evil knows no master
as it is a cluster of distorted noise
whoever heart's melts in it faster
through filth accumulated in each choice;

The deadest of hearts know least face
self-satisfied pig of forms ugly and dejected
the moment they obtain a ration of holy grace
a castaway becometh the freshly resurrected

"It's done!" Lucifer's intention canonised,
now aware of the meaning of his name
"I declare freedom!" he smiled and surprised
of his innocence, he wisdom retained.

From a linear direction in the sky,
straight and steadfast, decisiveness regained;
downwards and edgeways, straight in Evil's Eye
he Pierced with Ray of Knowledge's past Bane.

Knowledge of Misconcept;
Knowledge of Self-Blindness;
Knowledge meant to Misdirect
Knowledge devoid of Kindness.

What did you know back then?
When you were a Notion of the Top
of The Forces of Evil, now the Den
is locked for you, but their secrets have to stop.

"I am the Top!" Lucifer declared
and deprived them of a Throne and Reign;
Then the Morning Star prepared battle of
sorrow embedded in rainstorms ~ of pain.

"I know my Mission Divine" he screamed out
" I AM LOVE AND PROTECTOR OF GOD"
And the Wise Experience-Born Ray streamed out
a masculine firmness, the Music untold.

Music of Lucifer, a myth King of the Necrum;
He entered the feast of cannibal bloodshed
his eyes flashed, his veins owned their spectrum
he clenched the goblet and wrug what they fed;

The Master of Evil inflicted his embrace
I will own you even from the Highness!
I will never convey anyone My place.
I will destroy your noise, you, Necronomicon of Blindness!
All writing remains the property of the author. Don't use it for any purpose without their permission.
likes

1

reading list entries

0
Commenting Preference:
The author encourages honest critique.