Content Warning : Do you want to continue?
This poem contains content which some readers may find disturbing.
It is unsuitable for children or anyone who is easily offended.
YES
I am over 18 years old, I have been warned and I still want to read this poem.
NO
I don't want to read this type of content, take me back to the previous page.
deepundergroundpoetry.com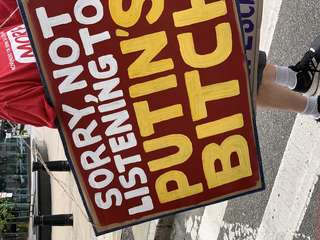 Birthday
Your birthday, is one day ... what'd you do with the other 364?

"Slavery was never abolished, it was only extended to include all colors" ~ Charles Bukowski

I scribbled those words
his words
onto my DUP tombstone so long ago
that I don't remember the when

but the why is burning red
white
and blue black.

I see the new plantation as he did
Her womb is fertile.
Ripe with money.

My last name, "Heyward"
is that of my family's slave master,
Thomas Heyward.

a co-signer of the Declaration of Independence and notorious slave owner in South Carolina.

I'm a bastard of America's greatest oxymoron,
men who wrote of freedom but kept my mother's mothers as concubines.

His tory still rules
Gigabytes replaces cotton
OxyContin today's tobacco.  

We keep our chains charged
and always on us
in case someone needs to fetch us for work undone

or we get called for a fuckin'
birthing more bastards
cause the work is a plenty
Amazon is always hiring.  

I don't suppose Bukowski would have Facebook or the Gram
[a gram, maybe]

I don't either
but I'm not as pure as he

Because here I lie at 2:33 AM
tapping out his birthday card on my iPhone
while trying to wean my three year old off McDonald's tit.

I've tried purifying myself by marching
and chanting through these crooked streets

while the sheriff and his kind
stand at the ready.  
badges and name tags covered
with black tape
not white hoods.  

Bukowski was right.
Because when the sheriff and his men
swing their clubs
They don't care who.  

Soccer moms in yellow t-shirts chanting
"Don't shoot your mother!"
Phil Dunphy dads in orange with leaf blowers
to bounce back the tear gas.

Black boys with rocks shouting
"Fuck the police!"
An old white man who didn't move fast enough
as the sheriff marched through
and had his head bounce off the ground.

I haven't caught my beating,
yet.

Probably'll be about the same
as when I spitting up blood
in the hospital for two nights
coughing and hacking [coronavirus]
much like Bukowski at his end.

damning the world
he couldn't change.  
All writing remains the property of the author. Don't use it for any purpose without their permission.
likes

6

reading list entries

3
Commenting Preference:
The author has chosen not to accept comments.