deepundergroundpoetry.com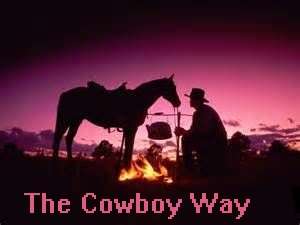 The Cowboy Way
Toss another log into the fire
Sparks rise up higher and higher
Reaching for the old kettle pot
Careful now the handle may be hot
Pouring the coffee steam rises up
Filling the old favorite tin cups
The wind rustles the air is damp
Toss more logs into the fire heat for the camp
Horses have all been watered and fed
Time to roll out the blankets a cowboy bed
Tossing more logs into the fire
Off to sleep, I begin to retire
Tossing more logs into the fire a little bit heat
Flapjacks on the griddle time to eat
Horses watered and fed
Ready to roll up the bed
Make sure the fire is put out
Time to be moving about
Stray cattle on the run
Just another day under the sun
Loving this life day by day
Living life The Cowboy Way...


All writing remains the property of the author. Don't use it for any purpose without their permission.
likes

2

reading list entries

0
Commenting Preference:
The author is looking for friendly feedback.