Content Warning : Do you want to continue?
This poem contains content which some readers may find disturbing.
It is unsuitable for children or anyone who is easily offended.
YES
I am over 18 years old, I have been warned and I still want to read this poem.
NO
I don't want to read this type of content, take me back to the previous page.
deepundergroundpoetry.com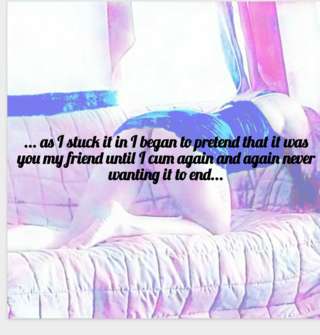 Icing on cake.
...as I stick it in I begin to pretend that it's really you my friend never wanting it to end until I cum again and again...
...Ive missed you baby oh so much, my hot hard body has been craving for your touch. Just touch my NO and fuck my YEAH forever be the best I've ever had...
...Your my all time provider of all my sexual desires, your like an addictive drug that gets me higher and higher, cum on baby set my world on fire...
...Baby just tease me please me go on down and eat me, lets never ever be done having lots of dirty hot fun and never ever stop until I cum...
...better hold me in place as I cum on your face squirting at such a fast pace as I say 'Baby how do I taste?' (as my legs continue to shake) you say 'Like no other I can possibly relate your my favorite icing on top of my cake, now are ready for your parfait?'... to be continued...

~Jess D.
All writing remains the property of the author. Don't use it for any purpose without their permission.
likes

4

reading list entries

1

Commenting Preference:
The author encourages honest critique.