Content Warning : Do you want to continue?
This poem contains content which some readers may find disturbing.
It is unsuitable for children or anyone who is easily offended.
YES
I am over 18 years old, I have been warned and I still want to read this poem.
NO
I don't want to read this type of content, take me back to the previous page.
deepundergroundpoetry.com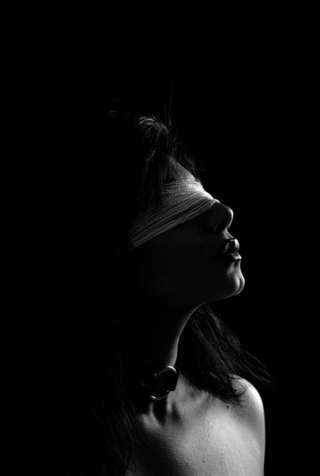 Anticipation
As she thinks to herself in the dark her heart races ahead
 
a smile lurks on her face as she listens for movements  
around her
 
The blindfold she wears is so dark and tight  
matching the leather cuffs wrapping her wrists
 
the chains holding her hands over her head are soundless  
but luckily not for long ...
 
Then Suddenly his hand spanks her hard …  
The crack of his hand contacting her skin fills the room
 
not a single sound escapes from her lips
as she stands steady in her darkness
 
The room goes quiet and the touches disappear again
 
So she waits with eager anticipation  
 
she can sense him
 
She knows he is close  
 
she knows he is there and she waits for his touch  
 
She Waits seemingly patient, yet voraciously anxious  
As the thoughts and anticipation start to consume her mind
 
This awakening is what she craves
 
He spanks her once more then caress her curves  
as she shakes her head side to side her senses start to go wild  
she wants more, both stings and tenderness  
 
she sighs at his touch and she gasps at his strength  
she cannot see or tell when he will touch or sting her again
yet every time it seems Total bliss is what she feels
she can't control herself a moan escapes from deep within her
 
She doesn't have to see She just knows he has that devious smile  
Adorns his face again

All writing remains the property of the author. Don't use it for any purpose without their permission.
likes

5

reading list entries

2
Commenting Preference:
The author encourages honest critique.