deepundergroundpoetry.com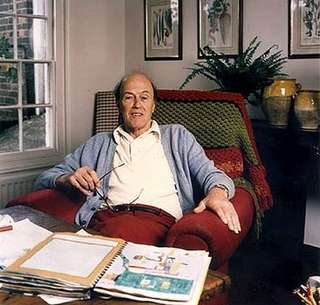 Dahl and Me
for Ahavati, who suggested the subject

"The stories are brilliant and the imagination is fabulous. Unfortunately, there is, in all of them, an underlying streak of cruelty and macabre unpleasantness, and a curiously adolescent emphasis on sex." - Noel Coward

The more I learn how terrible you were
throughout your long career
my fascination grows.
Maybe that's a privilege of race
and sex and class.
I can't say I'd have stood by you
when dropping anti-Jewish filth,
or any of the other crass remarks
that got you banned from your publishing house.

Yet as a fellow bullied kid
I came to almost admire
your boorish personality,
the sheer disdain for world and wife
that underwrote your strange stories
of confection magnates with pygmy slaves,
and peaches flown like air balloons
by sinister insects,
and murderous headmistresses
and witches clothed as everyday women.

A stupid vitch who answers back
vill burn until her bones are black!

I longed to be the Grand High Witch
and make all stupid bitches burn
with outstretched fingers wiggling.

And then I read the short story
that I think is the key to you.
Galloping Foxley
tells of a schoolboy tormented
by the dorm bully,
a tyrant in training
called "Galloping Foxley"
because he'd make a fellow stand
inside the closet's door.
Then from its back with switch in hand
He'd gallop for
England, striking the victim down
and bleeding on the floor.

The brutal rituals of youth
leave very few unmarked.
All writing remains the property of the author. Don't use it for any purpose without their permission.
likes

3

reading list entries

2
Commenting Preference:
The author encourages honest critique.