Content Warning : Do you want to continue?
This poem contains content which some readers may find disturbing.
It is unsuitable for children or anyone who is easily offended.
YES
I am over 18 years old, I have been warned and I still want to read this poem.
NO
I don't want to read this type of content, take me back to the previous page.
deepundergroundpoetry.com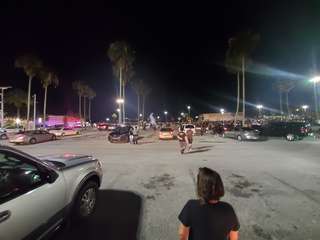 Still High On Riot Punch
You could feel the tension needing to drop a needle,
Riddle me this, what do you get when you cross,
A mentally ill loner with a society that treats him like trash,
The answer felt off the heat of your burning buildings,
How many people have the policemen murdered now,
Looking towards our heros for their turn to be persecuted,
We could switch it up at an hour when they should sleep,
Praying to God that all you want is to stand up and breath,
Poor diseased human being with their knee on a martyr's spine,
So for every pistol shot in the air yesterday, I almost smiled,
Showing on national news how you pushed us back into the cut,
Back behind the streets you don't patrol we are begging for a fight,
You are all so right, this isn't only about George Floyd,
This is anarchy in the US twenty twenty state of emergency,
This is all cops are bastards fuck em and the entire system,
A judge juror executioner face bashed in all the commotion,
I'd take a shower if you felt my bottle of piss's explosion,
You don't know where I have been, you don't know where I've been,
Everyone with their default politically correct rhetoric,
"I just don't understand." "The vandalism is not that necessary."
Easy to make an opinion out of a two second thought,
But what you believe, what was fought for it, would you die in its name,
Everyone play the blame game but the world should stop fucking with us,
I swear the next one will think they woke up in Pakistan,
Where the global business of slaughtering people is good,
And it should alarm everyone, the current state of things,
But it doesn't, nothing changes, nobody gives a shit about anyone,
Thirty four years in the making I've been patiently waiting,
For the people to challenge their greatest historical serial killers,
The department of corrections and the cronies that fill their bellies,
How far this will go I don't know but buckle up buttercup I hope you're ready.
All writing remains the property of the author. Don't use it for any purpose without their permission.
likes

0

reading list entries

0
Commenting Preference:
The author has chosen not to accept comments.