deepundergroundpoetry.com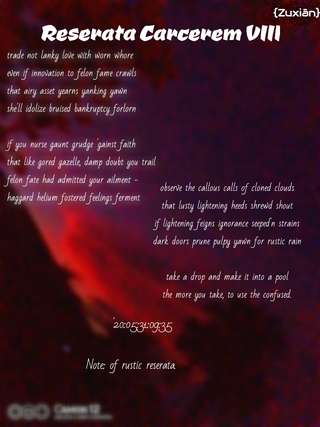 Reserata Carcerem VIII
trade not lanky love with worn whore
even if innovation to felon fame crawls
that airy asset yearns yanking yawn
she'll idolize bruised bankruptcy forlorn

if you nurse gaunt grudge 'gainst faith
that like gored gazelle, damp doubt you trail
felon fate had admitted your ailment -
haggard helium fostered feelings ferment

observe the callous calls of cloned clouds
that lusty lightening heeds shrewd shout
if lightening feigns ignorance seeped'n strains
dark doors prune pulpy yawn for rustic rain

take a drop and make it into a pool
the more you take, to use the confused.
  '20:05:31:09:35

Note: of rustic reserata.
All writing remains the property of the author. Don't use it for any purpose without their permission.
likes

0

reading list entries

0
Commenting Preference:
The author encourages honest critique.