Content Warning : Do you want to continue?
This poem contains content which some readers may find disturbing.
It is unsuitable for children or anyone who is easily offended.
YES
I am over 18 years old, I have been warned and I still want to read this poem.
NO
I don't want to read this type of content, take me back to the previous page.
deepundergroundpoetry.com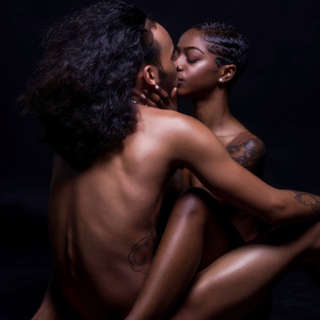 Mandingo
The ecstasy you glimpse behind the gifts of my soft inviting eyes
A sweet feeling to caress once clothes has been cast aside
Look at my melanin skin my love, now lean in closer for a soft touch
Intellectual paradise you roam, Mother Nature kissed, ebony we entwine in the soft folds of my heated lush
Iím no model, but my mind is the bearings of the mystic found in my sultry whys
Honey infused, trickles of weakening, pleasure you sink, deep between the silken passage of my thighs

Closing my eyes, legs entwined, bowing unto him as a Mandingo King †
In the height of passion, cumming unto me like a quite storm
Moaning his name over and over, shadowed by his roar, the taste I crave from being entombed in my arms
He has my body singing
Back curved, I see the stars, the moon, I hear Heavenís bassoon ringing
†
Taking all, cupping the back of my headÖ mmmÖ this is evitable, is all my mind silently said
Oh GodÖ †King me, needing to feel the flow of his soul as it tenderly consoles
My body, a parchment of beauty sealed in time, falling to the temptation of his appease
Giving myself unto the alter of his wonderous commune, the needs it feeds
†
Cloaking my existence in his arms as the sky veils itself from the stars and the moon, as it earthly binds
My peachy nectar he draws substance from, my lips he tenderly kisses upon, making him mine in this time
Our tongues dueling, souls blending, desires rendering
The depth of our spirits, surrendering
Silent whispers heard so faint, echoing in ether, time refusing to wait
In the mist of a beautiful storm, dopamine remembrance of the acquaint
MmmÖ †

All writing remains the property of the author. Don't use it for any purpose without their permission.
likes

6

reading list entries

1
Commenting Preference:
The author is looking for friendly feedback.