deepundergroundpoetry.com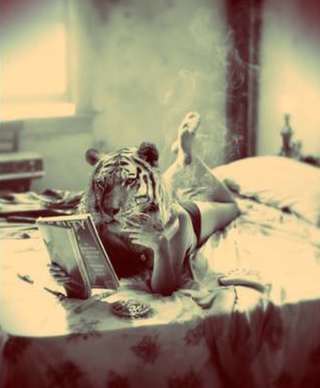 Fashionista! #15: Flattening the Curve
(Manhattan tiger lockdown)


Well here I am, the panicís got me caged
Just like a million others in this town.
I wouldnít mind if it were all the rage
In quarantine while COVIDís going round.

My daughterís doing lessons on her Pad
Secluded in her room the way she likes.
Iím catching up on all the latest fads
In fashion ads last Fall betwixt the spikes.

It isnít spikes that has me feeling down
Or even that thereís not much to live on.
Manhattan is my home & my playground,
A party that Iíd throw all weekend long;

For when there was no social distancing,
The sexy guys whoíd join me on a date.
Then back up to my place for wine & flings
When having them as dinner couldnít wait.

I think upon those days, my tummy growls,
I call the pizza man to come and serve.
My smartphone does what Iíd do if I prowl,
Deliver sans the cheese, flatten the curve!

All writing remains the property of the author. Don't use it for any purpose without their permission.
likes

11

reading list entries

2
Commenting Preference:
The author is looking for friendly feedback.