Content Warning : Do you want to continue?
This poem contains content which some readers may find disturbing.
It is unsuitable for children or anyone who is easily offended.
YES
I am over 18 years old, I have been warned and I still want to read this poem.
NO
I don't want to read this type of content, take me back to the previous page.
deepundergroundpoetry.com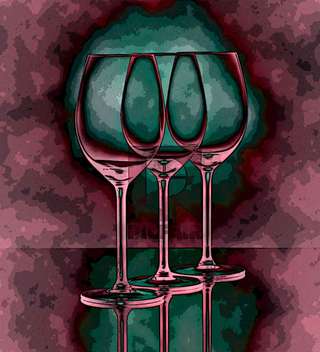 The Anniversary
As I approached their table on Monday, April 28th, the man announced, "Twenty years with this beauty right here." His wife blushed. She was attractive with short blonde hair and light freckles you'd expect to see on a teenager, not a lady in her early forties.

"Well, congratulations! I'll be your waiter for this special occasion.

"Thank you, young man. I'm Lee, and this is my wife, Lily. Lily means purity." Now Lily blushed again and laughed.

When I returned with their drinks, they were gracious and kind as they ordered their meal. I could tell they were going to be a pleasure to work with on their special night.

They showed my photos of their two teenage daughters. I could tell they were very proud of them. The daughters were with Lily's parents during this anniversary get-away, so they had the hotel all to themselves.

Lee asked if I was in school. I told him I had recently graduated and would be starting a new job in the fall but loved serving people as a waiter for now.

Their meal went off without a hitch, and they were delightful. They held hands and seemed so in love.

I was stationed at the kitchen entrance as Lily excused herself to the ladies' room. When she walked by, she smiled and handed me a note. Inside was a nice tip. The note thanked me for my service, but the last line puzzled me.

"I'd love to visit some more when your shift ends. I'm in room 427." Lily had drawn a smiley face and signed her name.

I thought it was strange, but she was beautiful, and so I decided it wouldn't hurt to satisfy my curiosity.

At 8 p.m. when my shift ended, I headed up into the main hotel. I knocked softly on room 427. The door swung open and there stood Lily, thanking me for coming and inviting me in like I was one of her long lost friends. She said Lee was at the bar downstairs but would be coming up soon, but we could go ahead and visit.

Lily was in a white robe and curled up on the couch, inviting me to sit with her. I was puzzled. I didn't want to get in the middle of a bad situation. I sat on the far end.

Lily started asking me about my life, family, and school like she was my mother or a favorite aunt. She had a way about her that relaxed me, and so we started having a real conversation, despite my earlier discomfort.

Lee used his room key and slipped right in, announcing that he was just a little bit drunk. He greeted me with a firm handshake and said, "Thanks for coming up for a visit. We really liked you."

Lily laughed and said, "Well Lee, it seems like you're a little bit looped. Why don't you have some coffee while Steven and I visit?"

Lee agreed and joined our conversation. We talked and laughed like best of friends. They made me feel so comfortable like I'd always known them.

The strange part was that Lily was now right beside me, still in that white rope, but with the front showing the tops of her breasts. As she talked, she put her hand on my arm and then tapped my leg when making points in her conversation.

I was feeling awkward with Lee seeing this, but he didn't seem to mind. He was enjoying Lily's little flirting gestures.

Then, out of the blue in our conversation, Lee interrupted and said, "Lily, when are you going to kiss this handsome young man? He looks like he needs some affection."

Lily immediately leaned into me and our lips met. I was shocked, but didn't pull away. She gave me a short, sweet-tasting kiss then smiled as she leaned back in, and we kissed longer, her tongue lightly touching mine.

"That's what I'm talking about," Lee said. "Steven, we're honored that you're sharing our anniversary night with us."

I was speechless. They laughed, and Lily kissed me again. She took my hand and pressed it to her breasts through her robe. I felt soft warmth. As we kissed, I could see her freckles and feel hot breath from her nose. Then I realized she'd opened her robe to reveal her breasts and bare legs.

My head swam with dizziness as Lily took my head and brought me into her breasts. I kissed and licked them. They were so firm. I thought about how she must have breast-fed her daughters and how much Lee must have enjoyed them over the last twenty years. All these thoughts swirling in my head, and Lily's warm taste, made me rock hard.

Lily spread her legs as she led my hand to where I felt her wetness. I could see that Lee across the room slowly jerking his cock.

Lily paused, sat tall, slapped her knees, and said in a playful voice. "How about some head?" I just looked at her in disbelief.

She laughed, "I'll take that as a yes." She unzipped my pants, and we pulled them off in a flash. Her blue eyes and cute freckled nose looked up into my eyes as she took my knob into her mouth. She was amazing. I thought of her lips wrapping around Lee for the past twenty-years. Lee moved to the couch to watch Lily's action more closely.

She saw him there and said, "Don't worry, I haven't forgotten you."

Then she sat straight like before, and her eyes sparkled as if she were asking me to take her drink order. "What I'd really like is for us to fuck," she said with a youthful smile. I was stunned.

"I'll take that as a yes," she giggled. She straddled me on the couch, and slowly lowered her warm wetness onto my hard rod. She started moving her hips up and down gently as her blonde hair swayed around her face. That's when I noticed her smiling slightly and the sweetness in her face. Maybe it was the freckles, but her face looked so childlike as if she'd never experienced any bitterness in her life. She saw me looking into her eyes and kissed me.

When our lips parted, she looked at Lee, and he came closer. She took him into her mouth right in front of my face. I was within inches of him. Her body continued to press down on me as she sucked Lee. She looked up at Lee with such sweet affection. He looked down, gently rubbing her cheeks.  

After a minute, she paused and kissed me. I tasted Lee's saltiness on her tongue. I'd never had a bisexual experience but tasting her tongue with him right there in my face brought it into the realm of possibilities.

I realized that Lee's hand was now on my shoulder. He leaned over Lily, who was licking under his scrotum as his cock stood close to my face. I'd never sucked dick but felt the desire to do it right then. I kissed his shaft then licked it as Lily continued down below.

Now Lily was watching us as she continued to bounce along. With my hands wrapped around Lily's back and Lee in my mouth, I was lightheaded as if seasick but in a playful way. Lee was so hot in my lips, and he moaned with pleasure.

Lily smiled and said, "You're so good for him!" Her hotness slid up and down on my rod, putting me in heavenly bliss. Lee moved away from us but continued to watch. Lily laid down on the bed and spread eagle. I knew what to do.

While I fucked his wife, whose name means purity, Lee stroked her hair and kissed her forehead as beads of sweat formed. She whimpered, "Come inside me." It was a minute later that I felt a rush from my center plowing into her with streams of cum thrust, thrust, and thrust. On my final push my body went limp.

"Nice work, Stephen. Now it's my turn," said Lee with a sheepish grin. I rolled off of Lily and he rolled on, slipping his hardness in where I'd just departed. In a moment, they were locked in a firm, strong rhythm. Lily seemed like a woman possessed, whispering, "Fuck me, fuck, me….fuck me, fuck me," as Lee continued to pound.

I felt useless but rubbed Lily's hair as her head pressed in and out of the mattress to Lee's shoves. She was heading toward something, but I wasn't sure what. Her body began to shake, quiver really, and she screamed soft and low. Then, Lee paused his rhythm and moaned, pressing hard and slow as he unloaded his sperm to mix with mine inside his wife. Lily smiled at Lee, "I love you so," as he continued his involuntary final pushing.

Then they both folded into each others arms, and I felt awkward (though not unhappy) like I shouldn't be there. The room was silent except for their whispers and soft kisses in the afterglow of orgasm.

After a few minutes, Lily got up and put on her robe, asking if I'd like a glass of wine. I said yes, and the three of us shared a toast. "To twenty years, and many more," said Lee, naked by the bed. After our glasses touched, Lily leaned over to me and gave me a sweet, childlike kiss. "Thank you for sharing our special night. Would you join us at the same time and location next year?" She smiled. Lee and Lily returned to bed, and I slipped quietly out the door, shaking my head, and asking myself what had just happened.

I paused at the elevator to enter April 28, 2021, into my calendar.
All writing remains the property of the author. Don't use it for any purpose without their permission.
likes

1

reading list entries

1
Commenting Preference:
The author encourages honest critique.