deepundergroundpoetry.com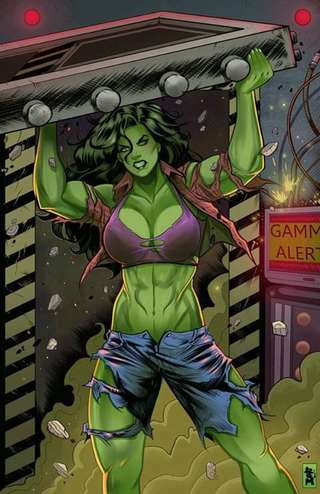 A Day in the Life of the Incredible SHE-HULK!
Every single day Iím getting hit on from all sides,

No matter where I go thereís simply nowhere I can hide.

Because I am a woman with a figure and a bust,

Most men will never treat me with respect, because of lust.

Every male member of the office where I work,

Would rather spend their time dreaming of whatís beneath my skirt.

Because of this I find it hard to get on with my work,

Instead of helping out theyíd rather chat me up and flirt.

It irritates me to the bone I wish that it would stop!

For all the sexist shit I even get it from the boss!


Then I meet a man of whom I think is quite all right,

He looks real good, he helps me out and all the time polite.

The type of guy Iíd like enough to ask me on a date,

The type who is the product of what love and lust create.

He asked me out and I said yes and now the trap is set,

He took me on a night of which I never will forget.

It turns out that this guy is just the same as all the rest,

Just wanting things to move along and gorping at my chest.

Expecting me to go back to his place instead of mine,

I knew what he was after, so from there I drew the line.


Now itís back to old square one and everythingís the same,

And then I hear a rumour that last night we both got laid!

I tracked him down to have it out and put the record straight,

My reputation was at stake, but I was far too late.

Now every male member of the office where I work,

Have a false impression that says Iím an easy flirt!

I canít believe that someone could be such a total jerk,

The whole thing got me so damn mad my head began to hurt.

I storm back to my office and I try to stay real calm,

Instead I get the boss trying to woo me with his charm.


I try to get away; instead he wonít let me escape,

Itís clear he heard the rumour now expects to have his way.

Iím stuck there for a while, Itís clear heís never gonna to leave,

He tryís his best to chat me up with every bit of sleaze.

All the time my patients is diminishing in length,

I try to keep my cool by using every bit of strength.

The more he tries to try it on my patientsí runs real thin,

I clinch my fists; I grit my teeth and try not to give in.

Then he makeís his move he puts his hand down on my knee,

And like a total sleaze ball, then expects a kiss from me!


At this point Iím ready to explode with all my stress,

And now I feel uneasy in the clothing that Iím dressed.

Still the boss comes on to me and making me feel worse,

My anger turnís to fury and Iím just about to burst!

I yelled out to the boss to get the hell away from me,

He threatened my career, just to get a piece of me!

At that point that bastard from last night walked into the room,

He made a lame excuse to say heís sorry, that made me fume!

I got out of my chare and slammed the boss against the wall,

Iím cursing to them both and now I just cant take no more!


I stand to my full height I feel my shirt becoming tight,

So angry that I scream, my clothing tightens at the seams,

My shoes no longer fit now and my shirt begins to rip,

My body growing larger and my muscles growing harder,

My tits are popping through the front, of my shrinking shirt,

That rips and taresí falls to the ground, my body starts to hurt,

My legs burst through my shrinking skirt and so to does my but,

My pantyís snap and fall away revealing far too much,

My feet break through my brand new shoes until I stand there bare,

My rippling body, my larger frame and all my pubic hair!


And now you start to tremble as you look at my great bulk,

Cause you have just awoken, the incredible SHE HULK!
All writing remains the property of the author. Don't use it for any purpose without their permission.
likes

3

reading list entries

2
Commenting Preference:
The author encourages honest critique.