deepundergroundpoetry.com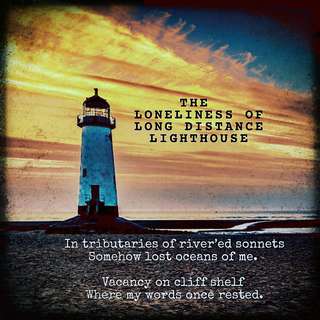 To(mb) The Lighthouse
Hypnotic push-me pull-me
Of twilight versed tide,
Rocks us, finally,
To delirious slumber.

We stood on the stretch of beach
Where wave does never reach,
Sometimes,
Fog placed 'Old Rust' in her pocket
So we drew the ghost instead.
Crayon misted keeper of light
Shuffled, trilby and tweed,
Drowned sailors saluted him.

I tell myself:
The lighthouse has waited for my return,
But merely home for tired sea birds
& nesting long forgotten memories.

\\ perceive all that was me \\

In tributaries of river'ed sonnets
Somehow lost oceans of me.
Vacancy on cliff shelf
Where my words once rested.
In the days of before,
Words grew on sunflower stalk
And the arms of every stranger
I ever passed, pointed upwards.

'''''''''''''''''''''''''''''''''''

It was the sea which lured me back
Opening her rip-tide as temptress
Slouched in doorway of saloon bar.
On the platform, electric cables sizzled,
Touch the rails, and
Touch neurosis of edgy city.

The train heaved back Up North –
Not a home-coming, but becoming
Unto tapestry of sun drenched fields.

Perceive all that is me
On rail-skirts of Cymru.
The ghost waved buoyantly
A Ticker- tape celebration,
But the spectre was speck
Of spectacle dust,
Torn train tickets to nowhere
And shredded global maps.

\\ perceive all that is us \\

You have returned
Amber to the house.
Light to all dark.

#12 ERUGLCT

Pic. Point of Ayr Lighthouse. North Wales. Defunct 1860s. Many a child hour around here. Ghost story has been documented - depends on whether you believe in ghouls etc?
All writing remains the property of the author. Don't use it for any purpose without their permission.
likes

4

reading list entries

3
Commenting Preference:
The author encourages honest critique.