deepundergroundpoetry.com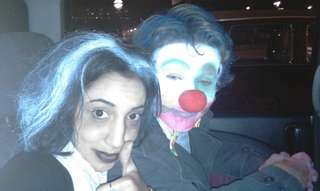 Conleth Hill & Sean Campion
drinking warm whiskey... isn't so bad...
it could be much worse:
it could be warm vodka:
not cold enough to reach a gomme syrop
consistency...
life's so tragic... sometimes...
      a warm vodka is like a warm beer...

what am i supposed to say?
i'm just tired of wanting to be in love...
i'm tired of hating...
  i'm tired of being angry...
i'm tired of being preditable and also:
slithering in pickling juices...
i am tired of love because...
              when it was "love"...
it wasn't dog eyes and a leash...
        or: never mind the solipsism of cats
when they still desire to mark your
forehead when sniffing it...
or come up and greet you:
with a "bodzio"... a head-butt...

   so much of my cognitive capacity
became a wasteland from having
both woman and love on a peddlestool
of the ideal...
                  it's terrible waking up...
but that "terrible" sometimes becomes
as... exhilarating as taking a cold shower...
or watching a flock of sparrows chirp...

and the sex: cocoon sex... under bed-sheets...
all my one-night stands happened this way...
under the bed-sheets...
i'm happy to give a comparative literature of:
well... at least in the brothel we did it
under dimmed lights...
butt-naked on the sheets...
having showered first
and downed a slacker of ms. amber:
oh you know it's bad...
that i have to call whiskey a very personal
investment narrative...
it's not whiskey... it's... ms. amber...

i should have been drinking long ago...
come shoulder to shoulder with
both my paternal and maternal grandfathers...
cocoon sex...
and if you don't think a man can be "raped"...
at the brothel?
 there's the concept of: creaming-up...
if the oyster isn't salivating enough...
yes... "rape"... cocoon sex with a sawdust cunt...
sanding paper cunt more like...
oh the agony: but to my liking...
yeah bud: stick your lesser want of limbs
into a meat-grinder:
is that penetrating enough?
     who would forever suppose...
it's a kangaroo pouch of safety...
the nadir of lucifer's birth:
    free-falling: head first... but not through
a cunt... not some floral pattern...

    cesarean... cesarean... are we going to give
births to kaisers or dull-eyed: deer...
i very much like to imagine a band
of mad-laughter hyenas...

              coal-burning black eyes...
     i am tired of giving up my thinking to any
and all ideals of love...
i could have invested my (th)ought i
into... conjuring up an electric bulb...
       a frankestein...
               i became so tired of love...
i had to come across a brothel:
to steal kisses from prostitutes
    and attempt a theft of the halo of st. augustine...
mummify letters in books...

which i have done...
       but love is such a never-dog...
                   one relationship that involved as cooking
together: beside the already necessary
prerequisite of fucking-for-free...
her period, the condom, and cooing her
to do it in the bathtub with the water running...

or this: moment when enough ms. amber
is in me... and i turn to...
        the chants of the templars:
           crucem sanctem...
                  dum pater familias...
         da pacem domine...

that clarity of a transaction...
             the growling dog overwhise
teased with food already presented to him
in a bowl...
         count of fingers...
                   
    i'm tired of love... of all of my body...
this nail blunt head from being hammered
too often...
          it escapes me:
why should my libido be compensated
when it requires: exhaustion...
to find the most fanciful thought:
only when the libido is exhausted:
  and if i have to do it myself: so be it...

but of so many people worried:
i am indeed... "worried"... when will it...
subside... die off...
this quills': marquis de sade:
leverage of: to read books using only
one hand...
                       if the acne is so prolonged
to make me...
belzeebub's favourite whore of:
what precedes facial / anti-wrinkle creams...
one maggot 'ere... another...

it is simply exhausting to love:
as one is expected to love via fiction...
and it is too costly to love:
poetically... anything but language...
esp. acquired language:
a language learned... most certainly
not passed from a grandmother to a mother
to a son...
some could claim to call these words:
in vitro...
        and on that matter...
which part of me is experimentally "dead":
the mind... or the body?
i am not... a native of these parts...
a native...           a native...

this is the part of the year when
winter is crucified... and reborn as spring! no?
all fucking rose buds and sparrows chirping!
who can love... so... ideally...
idle though: to make the burdens
of the most... boorish matters needing:
stressed concerns for "detail"...

 am i one of the last ones that still
bought a porno-mag when
the free shit was available online...
                    twitch... i'm an old fart:
in a 34 year old body... because:
keeping up... became synonymous with
being distracted...
                 cam-girl... etc. etc.
           "soz": but there just isn't any bragging
to be minded...
or a:        h'american striptease... d'uh: tease...
the carnival of the wriggling maggot
came to invoke
kissing the eyelids... gently teasing
the tip of the nose with a bite...
                            this body... or that body...
an a sculptor...
  in the brothel i was only robbed... once:
well... "robbed"...
this coke-head distrated me with:
do you want to use this dildo...
         the proprietors' henchman...
a little turk by the time: i presume to be:
Osman came up with a bundle of stolen cards
and asked me: which one is yours?

that's a pretty good effort...
       i must have been up to no good...
once we stopped fucking because: she started
seeing downton abbey in an epileptic flicker...
yes: and me fucking her wasn't,
exactly... a fucking chocolate fondant...
         
it seems so... pristine when...
two bodies are allowed to touch...
without all that extra baggage...
that is desired to... "beside" the otherwise...
readily available carnality of the act...

e-girl vidoes: teases...
                                   what can be the best
compliment... one could possibly give to...
byzantine culture / the "modern" greek?
  ah... Αγνή Παρθένε... the singing...
                         
  mulier... no... not a woman or wife...
            hardly a property right...
something to boast and concern oneself for
the rattling of feathers of peacocks...
    mulier... the french playright...
ugh... molière - yes, him!
           molière donning a mullet! yes...
and not one of those charles II wigs...
from one wig alone...
              you could have made...
oh... roughly... an orchestra's demand
for violin and cello bows...

             pissy-pant french of 14 year old
past: one direction fandom...
                           for every male fan of tool...
a declared ownership of a dildo...
better still... a screwdriver...
   that would be something...

                               or when stand-up comedy
was communist enough to entertain:
a cabaret form... an arse oddity (bottom)...
can't enough not tire of
stand-up solipsism...
the stand-up solo project of...
back-and-forth with an audience of canned
laughter?
cabaret... doesn't have to be switz
ja herr doktor voltaire...
        but some sort of ping-pong...
a game of squash...
i do not know... of a single concept of
sport... where there's only one...
concept-riddle of engagement...
can comedy... or rather... should comedy
have "evolved" beyond the cabaret...
famously: in theatre-land...
stones in his pockets...
two bodies on stage...
 with a plethora of...
how the sequence went...
  BRONSON...
bronson "vs." or rather:
"nursie" vs. "mr. petersson"...

         two names: Conleth Hill and
            Sean Campion... oh look... capital! letters!
yes: of note... circa 2001...
and that's when...
  this... stand-up... hard-on "comedy"
of stand-ups...
no... no cabaret format...
internal-monologues extending into...
an octopus attempting cliff-skimming:
climbing... failing miserably...
  if it's such a "comedy"...
   where's heidegger's hammer?
last time i heard: even by ol' martin's standards:
you'd require two people to talk
about philosophy as a "side-project"
when hammering in nails...
how can one person tell a joke?
oh but they can...
on special occassion(s)...
        the joke is better translate via a dialogue...
rather than a monologue...
last time i heard...
 
comedy doesn't require these stand-up
geniuses...
imagine... masturbation is actually...
a sex act...
taking a shit is actually a...
       get together meal for three...
and that's the loaf... equally spread...
for the devil's dozen...
  pissing will satisfy any champagne socialist
get-together...
     
  i have to become bored of love...
the sort of love that would never come with:
the impetus of darwinism's ideologues...
for: now that i have become a father...
          i'm less and less: a horny satyr!
              wish me 70+ age and being freed
by dementia to curse like a cobbler
and a seafaring man...

             that overbearing: no room for impromptu:
when solo...
otherwise... no otherwise...
just that strict: regime of... an expectation
for and with: canned laughter...
all that's missing are two tin cans
and a placenta of stiched-up tongues...

... for all the movie buffs...
it's not enough to blunt your eyes on movies...
actors: and their subsequent roles
in 3D... why did up stand-up...
the grand mass-orchestrator of giggles be
allowed to cue the audience...
like any minor dictator might: from
argentina or romania?

                back toward the sex...
yes... stealing kisses from prostitutes...
this was never going to be one about Wordsworth's
"celibacy"... which you would be expected
to partake in... just having bit into
the forbidden fruit of incest with your sister...
or so... they might say...

daffodils and that "doris" of the...
will the word FUCK... somehow prevent
you from seeing incest porn...
or bestiality porn?
then at least there's the hope...
to make minors of ettiquete standards
of the: proper social contract approach:
with civility... or therefore: none...

i am finding a rare occassion for:
an as to why, i would ever do anything to begin
with... grow a beard (1)
grow a beard to stop myself shaving (2)
grow a beard to hide my double-chin (3)...
grow a beard because
growing my hair long became boring (4)...
grow a beard because i wanted
to scratch my pubes on my face rather than
scratch them on my "eden region" (5)...
the other reasons congregate under
the status of... rubric and tally...

(6) to grow a beard is better than growing
the hair long...
no chance of becoming bald...
long hair attracts too much female attention...
last time i heard a woman who grew a beard
became a circus-act...
a beard is the safest territory to mind...
when there's a woman that...
somehow needs to compensate!

        all of a sudden: i have forgotten penis
envy... when i came across
beard envy...
  i am... very much so...
envious of mel gibsons beard...
in general: but esp. so in the role...
of prof. murray... with him donning
a cravate and a top-hat to boot:
the epitome of what all men of the world
could have wished for:
the victorian gentlemen...
fiercer still: an autodidact...
a dog without a leash... eh?

    i pity the tattoo of ethnicity:
given that: i would be english...
an ukranian would be scottish...
or a lithuanian... the tattoo of ethnicty or a past...
that i would be the polack...
and there was this tide of cossacks...
i would be... the polack...
          and there would be some
ingenius pict equivalent...
           in my abode...
                     
   i am tired of love...
the most attired love of idealism...
as i am tired of hate:
and anger...
i am tired of both of these latter:
when there's no boxing match interlude
to match-up with...
i'm tired of love as i am tired
of retribution and of justice...
i am tired of gambling...
what right is there fore me:
to steal from the blind?
          i am tired from: expectations...
i am tired of ideals...
i am tired of hate because:
if i wasn't i'd still find it...
egregious to spot the minor offences
of citing the prefixing n-...
                                       as... nothing short
of an "oops" of b-               and -igger!

i'm tired of being: a civil monkey...
if i'm tired of love...
if i'm tired of hate...
i can never tire of language...
but if i become:
zoologically kept: inept...
                     ha ha! ha ha! ha! ha!
i: dodo: tire: and Tod:
of: retard: improm:     p'tooh!
        savvy or the sinking ship?!

                      RATZ!

better a concern for prostitutes:
seeing that... there's no...
jackie ol' myth to be cooked from my "affairs"...
i thought about:
how about... now was the best time...
to not kill prostitutes...
i stole kisses...
an exercise in making videos...
bring back blockbusters!
            bring back blockbusters!
fuck the content creators of youtube!
give, me, back, my, fucking, jukebox!
give, me, back, my... thesaurus algorithm!
give, me, back, my, fucking, jukebox!
give, me, back, my... thesaurus algorithm!

          once upon a time: dubbed:
paupers... the homeless...
prostitutes... now... eh... one sly loss of calling
these... the... leeches of: welcome tomorrow!
so the price of... being...
astounded... that's it?!
               the magnified statement
of karma-phobia...
there has to be a concept akin to:
karma-phobia when islamophobia is already
too bogus to touch...
there has to be: karma-phobia...

a prostitute a canvas:
i went down this alley because...
i just... wanted to show-off...
for myself...
the most better part of myself i could never
show with... a girlfriend...
and showing my best:
armed with merely a dog and a leash:
just wasn't enough:
or a fabergé egg: missing a matryoshka doll
"detail"...

like kicking a dog in the balls...
like... attempting to catch a mosquitos
by the bollocks donning boxing gloves...
the lowest of the low:
of picking the "fruit"...
jackie ol' burrow: ripe-kipper...
and that merry-o-round of...

               give me enough upper-body volume
to rummage and ruminate...
to clearly identify the psychopaths
leisuring themselves over a thursday's
afternoon worth of sun-soaking
a metaphor of bath...
        and all those minor grizzly detials
of swathing a mosquito or two...
because we are inclined
to spare the flies...
because: we just, are... thus inclined...
i hear an argument: i will: without a doubt...
also hear a guillotine do us all a favor
of detailing the: "chopper"...

my my: that ripe keeper of a pulsating
neck's worth of a rhubarb...
salmon teriyaki...
                                      n'est ce-pas?!

in between: calling it learning to tie one's
shoelaces...
having no better synonym detail
of comparison other than...
            with depeche...
                               no song to be worth
any particular: sort of... originality...
and or in... detail...
                  there's only a hope for
giving a particular sort of wind:
associated with a month...
and with a month: a sorting-out of a year
within and beyond a decade...
a century...
                   
this had to be forever: and one...
enough for the worth of tonight...
and with it... no other, better, compensation
other than my own input;

ha ha!                          grace?!
All writing remains the property of the author. Don't use it for any purpose without their permission.
likes

0

reading list entries

0
Commenting Preference:
The author encourages honest critique.