deepundergroundpoetry.com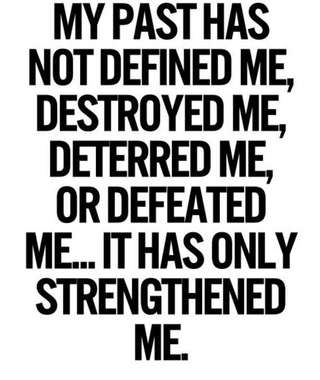 IT IS THE PAST
They say that one's past can make you or break you but then if that's true, then how does one change their future if one continues to dwell within the depth of the past, and continues to accept that their past is the future. It's easy as mathematics adding and subtracting, for one must subconsciously clear your thoughts, even if it means you have to close many of still open doors that should of been closed long ago, even if it means to learn how to forgive them as well as thyself. For we can't continue to keep reliving in the past, with its hurt and pain and suffering along with heartaches, with loneliness and lonely days and nights with scars that seem they will never heal. I agree it's a pain to accept that things need to change, and I know there will be situations that just makes you wanna go run and hide, behind those walls that you so builded around you. But the depth of the truth is that isn't living, for you are only coexisting just passing through time going through the motions. For your past shouldn't be a death sentence, it should be an awesome awakening to love and truly be able to understand life. For whenever we let our past along with the process of mistakes affect us, we only short change ourselves out of love and happiness with unconditional support. Basically your past is only your past as it has no place within the depth of the future, especially  if you want freedom to choose to live and love and be happy in all honesty, I am speaking from my own experience that I had to learn and grow and go through for change and clarity of life.
All writing remains the property of the author. Don't use it for any purpose without their permission.
likes

4

reading list entries

1
Commenting Preference:
The author encourages honest critique.