deepundergroundpoetry.com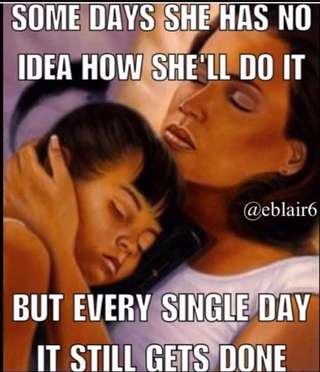 IT STILL GETS DONE
I would like for this to be my heart and soul tribute to the mother's out here who have beaten, all the odds from out of lifes many trials and tribulations that came across their paths, along with the hurt and pain and suffering with the agony of being betrayal with distrust along with the dishonesty and disloyalty of there heart. For I know there are some days, when you just dont wanna rise up from that bed and deal with the daily grinds of keeping it all together, but yet still you rise to face life head on for duty calls for you to be the strong one as it still gets done as you are the true foundation of the backbone of the family. For I know sometimes even you wonder deep within, the depth and deepness of your own mind how can you keep doing it day in and day out for where do you find, the strength and courage to weather even the strongest storms yet it still gets done. I know there are some days that are good as well as some days that are bad, making you wanna go and hide from the insanity that runs throught your mind as you fight back the silent tears that, appears within your eyes pulling and grabbing at your heart but yet still it gets done. For I know life has put alot of responsiblities upon your shoulders, but it is for that reason that you were choosen to be that mother cause within you there is a deeper strength, you never knew that you had within you build by the courage gain by your wisdom and knowledge of love with unconditional caring, from the heart of your spiritual soul as it still gets done by and with YOUR MOTHERLY LOVE.
All writing remains the property of the author. Don't use it for any purpose without their permission.
likes

5

reading list entries

3
Commenting Preference:
The author encourages honest critique.