Content Warning : Do you want to continue?
This poem contains content which some readers may find disturbing.
It is unsuitable for children or anyone who is easily offended.
YES
I am over 18 years old, I have been warned and I still want to read this poem.
NO
I don't want to read this type of content, take me back to the previous page.
deepundergroundpoetry.com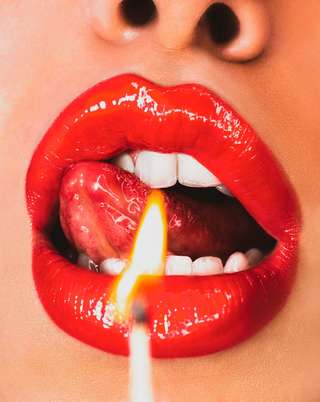 Heat Stroke
I opened my eyes and your thighs gave up a surprise.
I can see your kitty purring like a mother fuckin gunfire.
My desire for your flower lit fire to my member that could hold off the mother fucking winter.
We beating through December and fuckin straight through January.
I made your pussy my sanctuary, my dick her perfect throne.
I want to make her run while our friction creates sexual arson.
Beethoven couldn't make music this hood.
Firewood and a bag of good, I'm in her jaws like a good dentist should be.
We screwing thru valentine's day night B.
Her pussy was mighty tiny and shiny so I gotta test my might.
I bust it down like dolomite
I pipe her right now she blowing up like dynamite.
I stayed in her flower till morning light.
Feelin so right I could go fly a kite.
I was hitting from the back with all my sexual appetite.
Slapping her ass and grabbing her titties like I was crushing an open mic.
Got my heart jumpin towards redline headed for the endzone, spike the ball and she leaking while she freaking.
Flip her on her back and she right at home.
Imma stay in my zone while I'm breaking all her bones.
Turn on the voice recorder and I got an ad lib.
Her moans and contractions causing my stroke the sweetest distractions until I blow up and start climaxing.
Happy Valentine's day bae.

Check out my blog for more content...
www.blackboxlive.wordpress.com
All writing remains the property of the author. Don't use it for any purpose without their permission.
likes

2

reading list entries

0
Commenting Preference:
The author encourages honest critique.