deepundergroundpoetry.com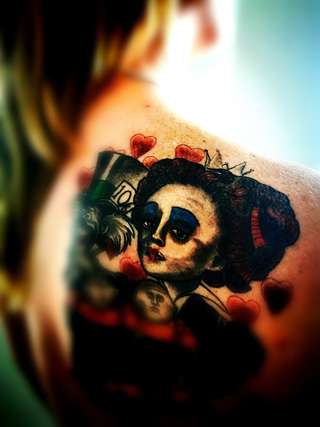 The Red Queen
Want to hear a secret
Promise you won't tell....  
Inside my minds' dark corners    
Resides a living hell    
 
Enthroned within, a three year old    
Dubbed the Red Queen    
Obey her commands    
Surrender to her demands    
Otherwise, she stomps and screams    
 
A shriek so piercing    
eardrums explode.    
Abused by those in power    
Feeling cheated, and alone    
 
Cunning..    
Batters her ocean blue  eyes    
Approach with caution.    
Don't be  fooled    
Unrecognizable her disguise  
   
Her face, her smile, that laugh    
Weapons of mass destruction    
Flaming red hair    
A temper to match    

Despair,  her entertainment    
Love a foreign sensation    
Hate her singular emotion  
Quick as lightning, without warning,    
she morphs...
   
The Red Queen, now a woman    
Smarter than the child    
Captivated by her presence    
Resistance futile    
 
Subtle, she lures victims    
Intoxicated by her power    
Refining her skills    
Bathing in their  blood  
 
Her crown of bones    
Firmly in place    
She knows....    
Compelled to exact revenge    
Punished by her hands    
 
Her every move strategic    
Strength from instilled fears    
Practice make perfect    
She is perfection    
 
After all, she IS the queen....    
of Hell!    
Controlling all executions    
"Off With Their Heads!!    
(Alice in Wonderland)    
   
"© Australian    
Copyright Council "
All writing remains the property of the author. Don't use it for any purpose without their permission.
likes

2

reading list entries

0
Commenting Preference:
The author encourages honest critique.