deepundergroundpoetry.com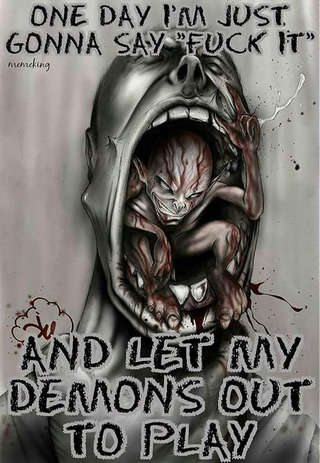 THE ME KNOWONE SEES
Have you ever wondered deep within your mind, when you see someone for the very first time and there is just something about them that stands out of your mind, but yet you cant put your finger upon it but they seem normal just like you in mind heart and soul but who truly knows what goes on behind close doors.                                                                        
                                                                                                                                       For could you even image living an secet life were your thoughts control your mind and emotions, sending you subliminal messages to decode deep down inside. For even the images and sounds of normal everyday life will click your imagination to run wild and free, as they slowly begin to start invading your mind dreams at night awakening you with sweat dripping from your body and soul. Leaving your mind confused and alone to deal with, the monsters that have become awaken from within the depth of your mind. For on the outside you look like everyone eles, but yet behind close doors and pull down shades to block out the outside light of your cage, only to bring in more DEPRESSION and annxiety with insomnia and nightmares of PTSD to eat at your mind of your soul. For its a whole different kind of story to tell, for you slowly feel thyself sinking deeper into an bottomless pit of misery which will have you feeling trap with no escape route, only darkness as your comfort blanket screaming at you to release this monster that dewells deep inside of you and let your demons out to play.
All writing remains the property of the author. Don't use it for any purpose without their permission.
likes

9

reading list entries

2
Commenting Preference:
The author encourages honest critique.