deepundergroundpoetry.com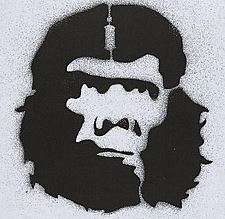 New Age Guerrilla
When the powers that be rule the land,
And their armies sweep countries by force,
The few,
The proud,
The strong-willed fight back,
Insurgents
Will battle to the ends of the earth,
And go to their deaths for the cause.

Itís been around for thousands of years,
As those who resist,
Vow to oppose and defend their beliefs,
They use tactics uncommon of war,
Bringing chaos and bedlam
To armies of far greater numbers,
But more importantly
They have a fundamental motif.

Guerrilla warfare,
As savage as it may be,
It carries a message,
An ideology,
Itís a creed that cannot be killed,
It wins the support of the people,
And thatís something that canít be beat.

See the message on the wall,
Read the stories that go untold,
And you too will believe in something greater,
Because when those in power try to silence the masses,
The new age guerrillas will rise,
They will come from the shadows,
From the Underground,
And like ghosts, they will disappear,
Lurking somewhere near,
Ready to fight.
All writing remains the property of the author. Don't use it for any purpose without their permission.
likes

5

reading list entries

1
Commenting Preference:
The author encourages honest critique.