deepundergroundpoetry.com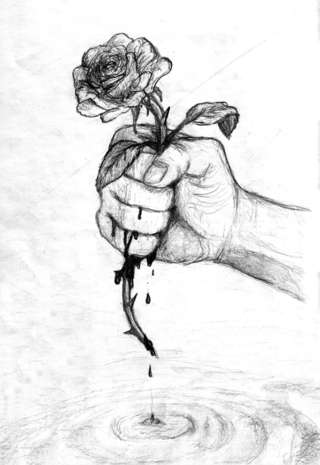 "A rose for a rose"
Here's a captivating rose
    She takes hold, procures a prick from a thorn prior to placing the plant to her nose
    "Be careful my love"
    Sucks her finger, spot of blood
    Shakes it off, resuming her fondness for the flower, allured by a whiff
    Enjoying every nanosecond with each precious pedal for what it is
    Just to have an allergic reaction take flight due to pollen turning poisonous
    "This is getting quite ridiculous"
    She can't believe
    How hard it has become to breath
    Swollen vocal cords make it near impossible to speak
    How can something so delicate bring her down on knees?
    Gagging pleas!
    I am trying real hard to understand what she's saying
    Protesting why anything this stunning would create destruction, inducing such pain
    "It's crazy when great minds think alike sweetie
    I was gaping down at you speculating the same thing
All writing remains the property of the author. Don't use it for any purpose without their permission.
likes

0

reading list entries

0
Commenting Preference:
The author encourages honest critique.