deepundergroundpoetry.com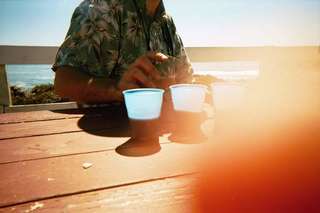 Indisposable Nostalgia
Retro
Disposable camera
Film.
Making photos age
Before their time.
My pictures were
Already messy.
Taken by tiny hands.
Too small to hold
And click the button
In unison.
Blurry corners
And fingers over the lens.
A signature
That I was the one
That snapped the memory
On to paper.
Showing in ink
The footsteps I'd leave.
A path of memories
Traveled in the pages
Of a photo album.
I was there.
Evidence of a replayed daydream.
I walked this path.
Though long ago
With small strides in my step.
My future love of nature
Surrounded by trees
And the smell of damp leaves.
Rocks and bumblebees.
Captured in the plastic shell
Of a disposable camera.
All writing remains the property of the author. Don't use it for any purpose without their permission.
likes

7

reading list entries

1
Commenting Preference:
The author encourages honest critique.