deepundergroundpoetry.com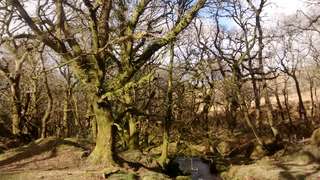 To Moor, and you.
In the ineffable density of woodland, where bottle green moss envelopes rubble
from houses abandoned, there is land
long fallen
to the Moor and her ways.
Tree roots bind
together overlapping, breaking, suffocating.
Fungi grows, epiphytes, bracken springs from swollen soul
and light is gently dappled trickling on the dawn, †
cutting through leaves of oaks †
facing their next season.
The wind sings, tits, finches. †
It is yours, †
your church before you were looking for a place, †
your space when you weren't searching for a home to feel found - †
longing
for a soundless hollow to be lost, †
here
in the kingdom of earth, †
you couldn't be held higher
and I am beside you, around you. I can hide you, child,
from a world so blue
when it swallows
yet won't embrace you
because
I'm green
through and through.
All writing remains the property of the author. Don't use it for any purpose without their permission.
likes

8

reading list entries

2
Commenting Preference:
The author encourages honest critique.