deepundergroundpoetry.com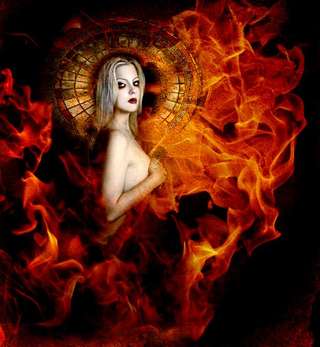 Raphium Series~The Goddess

within the eternal struggle for power the outer houses seethe
their magic is stripped and given to me
an enigma in truth to the coven
a lowly Raphium born without the gifts
unable to feel the internal thoughts of the host
not recognizing her own and blind

I free-fall through time a misfit and burden to my kind
my father made contracts securing me placement and protection
as well as safe passage through the ranks still I was despised
found not fit for societal rank in the hierarchy by most

blindly going about the world thinking I was human
yes I felt their stirrings deep inside me
but my mind believed only God and the Devil

I never knew of our people's existence
I understood only mom and dad
constantly reprimanded for breaking rules of class--
without even knowing my infractions

cursed with vice, my young body cruelly treated
by a young Raphium securing her future
by treating her crippled mother cruelly
there is virtue in that. a truth among the Raphiums
weakness is not tolerated

I studied my bible faithfully
I loved God and God loved me as he does all his humans
despite my Raphium heritage, I was accepted as one of them
even baptized by the holy spirit yes I was spirit-filled
I was alone but not lonely God was my constant companion

then a terrible day came a game of sorts was afoot
a Raphium warrior from another house took genuine interest in me
he knew my private lusts and desired to be what I longed for
he would entertain me while we worked

as the mocking birds of the host were known to do
gossip soon began and his evil Raphium wife became jealous
previously she had openly shamed him before the host
even belittled him, torturing him
for what she perceived shortcomings

he was in love with me and I him
in a rage, she turned God's head against me
he and the entire host brutally tore me open
my spirit filled soul was raped
the angels themselves charged to protect me in past times
were used to attack me

one day while particularly broken
the sun beating down on me while I wandered
was thrown down on me as a weapon
I reversed the curse and replace the marker

I waged war that day against both the host and God
who had fallen for the jealous Raphium woman
loving the popularity of the cruel angels more and more each day
he began doing magics of the dark and vicious type
our war continued...

time passed and I was gaining fame among the Raphium
for having a most delectable flavor sexually
our peoples war and loyalty are tied strongly to this drive
I was becoming famous

the very demon dog riders used to torture me
were now in my employment
they loved me because I showed them what no Raphium ever had
Respect...calling them by name and understanding they have feelings
I was gaining in power

God feared for his safety in the heavens
so he fled my sight
assigning a celestial council over us
while he played with his concubines elsewhere

what he didn't know could never know
is somewhere a Goddess waited and watched
she knew his true nature, his cruelty
one day while scouring the heavens for him in prayer
I encountered her and an unlikely alliance was formed
that would ultimately change everything

to be continued...


All writing remains the property of the author. Don't use it for any purpose without their permission.
likes

3

reading list entries

0
Commenting Preference:
The author encourages honest critique.