deepundergroundpoetry.com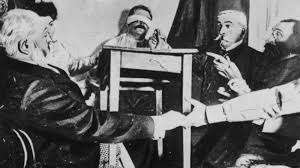 666 CAPRICES FOR HELLISH CHOIR
When she suggested séance
Thought she stuttered "Let Us Dance."

Who is that at kitchen window?
Bag o'bones tango rattle
A foot loose & flesh free,
From shoulder of moon-shine
Shivvie teeth shackled lament
To ivy, crawling into brickwork.

And thus he sang:
The hangman has a beautiful daughter.

And still he sang
Until he drifted,
Lost in absence
Of eventide.

Circle of tea lights hooped wall
Re-framed Mona Lisa smile, curled by
Guernica grotesque shadow hands.
Fingertips turned the screw clockwise
Touched as embalmed terrorists
Still burying bombs under clay.
The pendulum stopped &
Chimed death knell
For chronophobia.

A French monotone skimmed
O'er distanced mountain
Tumbling as scree into arid coulee,
Fantôme jive talking, mumbled murmur.

We fumbled with microwave
Knob to change frequency -
Oven door creaked open
Decibel level nine below zero.

Wild(e) about the heartbreak inside
If you returning this way Oscar
Be sure to whisper
Sunflower lit verbs
& leave parts of yourself
From the depths
On kitchen floor.
Sad verses remind me of friends.

Will small yellow flowers which
Grow In the skies of all dreamers
Lure Van Gogh to pencil the feeling of
Those self-portraits which remain unpainted
Onto this 'dead-moth museum' ceiling.

Inspiration can be found
In a de Kooning soup swamp:
Theres bones in them garden ponds
& who adorned Cleopatra statue
In a water lilies wedding dress?

Summoned 'Old Man Jones' from the coals
The air was heavy with scent of whiskey
Exhumed from a collapsed lung,
Waiting for never> arriving trains.
Mrs Jones cried he 'came to her at night'
Speaking in wind and rain tongues -
She will be grateful for another death.

Morning sank into kitchen sink
As egg shell cracked into yoke,
Dawn had sifted her silvery threads
Onto left-luggage platform.
All is in transit on rusty rails.

Breadth of sparrow breath stretched
From bough to Victorian slate tiles
Jagging as greyed unfinished jigsaw,
Pair of blackbirds shared awkward affection
Tomorrow they will build
An ectoplasmic nest
Below the wire.

She slumped over the kitchen table
Mousy hair drooped into flower vase.
We glared with glistened & cold fish eyes,
So intense the toast burnt into
Crackled stories of the furnace.
The pendulum started again.

Swing.
We didn't speak
Swing.
Words merely stood to attention
Swing.
We will wait until next séance.

Stood at the gate at foot of garden
Sipped cold coffee, until grains
Agglutinated across my lips.

They moved only to sing
Through mouthful of crushed pebbles
Collected from shore of long forgotten seas:

The hangman has a beautiful daughter
Scarecrow waits until she asleep alone
Oh time and rope, do as I wish.

The sky burst into an orchestra
Violin strings wrapped the necks
Of each living thing.

All writing remains the property of the author. Don't use it for any purpose without their permission.
likes

4

reading list entries

3
Commenting Preference:
The author encourages honest critique.